Professor Dana Pusta, who has undertaken a placement at our university under the Erasmus+ scheme, comes from the Faculty of Veterinary Medicine belonging to the University of Agricultural Sciences and Veterinary Medicine of Cluj-Napoca (Romania).
The Science and Research Promotion Unit CEU Descubre organized on October 21 a lecture under the topic Surgical disorders in which the genetic determinism is involved, addressed to students in the field of Health Sciences. The lecture was given by Dana Pusta, professor in Genetics at the Faculty of Veterinary Medicine, belonging to the University of Agricultural Sciences and Veterinary Medicine of Cluj-Napoca (Romania). Professor Pusta, who visited our university under the Erasmus+ scheme, was invited as lecturer by Professors of Veterinary Medicine Juan Cuervo and Maite Balastegui, from University CEU Cardenal Herrera. The lecture, which was given in English, was addressed to students of Health Sciences and Veterinary Medicine, and lies within the activities of CEU Descubre, a unit coordinated by Professor Enric Poch.
During her lecture, Professor Dana Pusta presented several genetic malformations suffered by animals which needed surgery. The range of presented disorders included malformations in the digestive tract and the locomotor system (limbs and joints), as well as vision problems and other heart-related impairments. For each of these, Professor Pusta introduced the corresponding Genetic Aethiology, as well as the clinical signs allowing the detection, the treatment and the prophylactic measures that could be applied in some of these genetic diseases.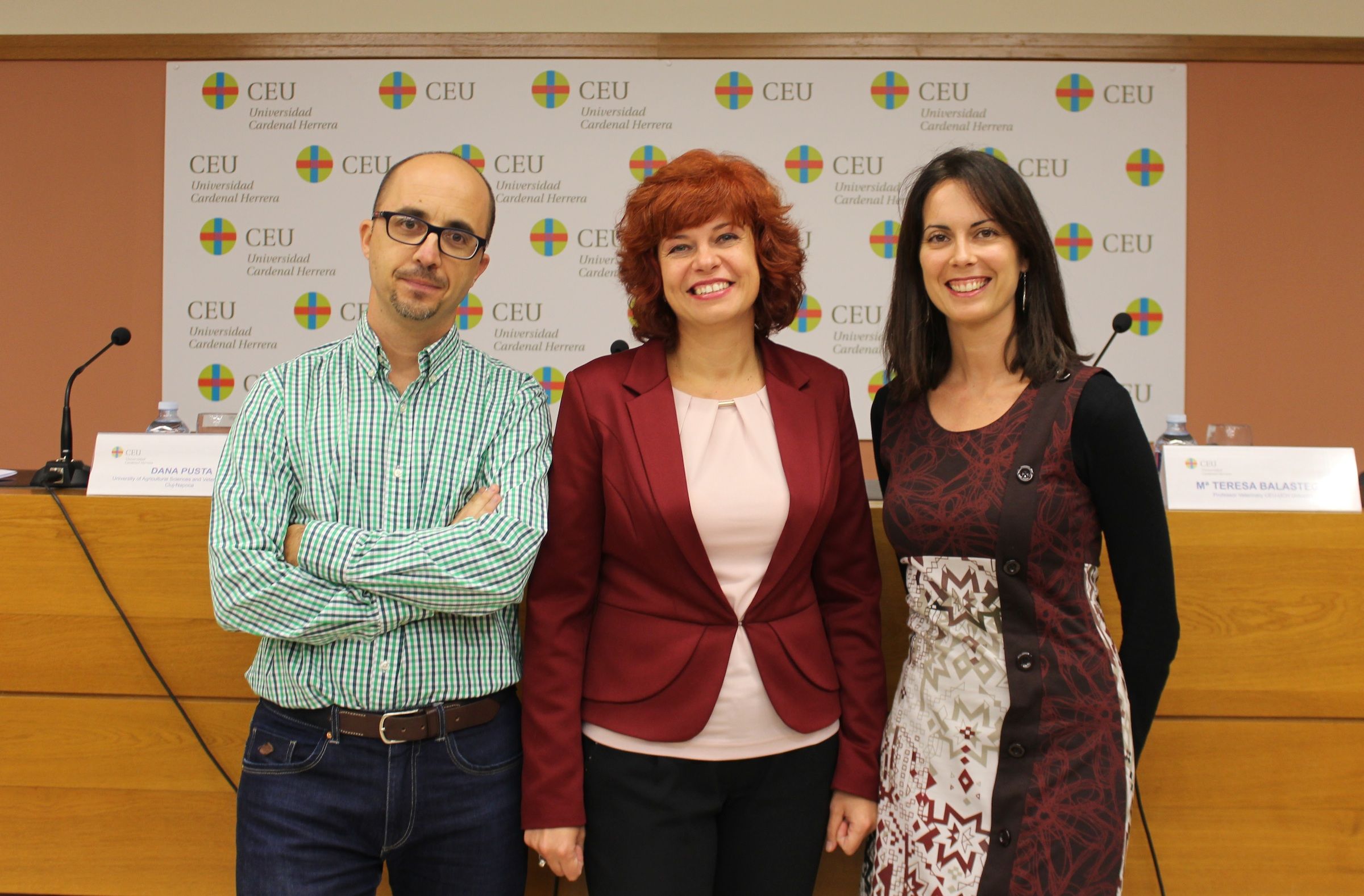 After presenting various genetic disorders which can prevent the normal development of the animal at early stages of gestation, Professor Dana Pusta focused on those which can generate problems in the survival and proper development of different animal species. She also pointed out in which of these species the disorders were more common.
Genetic malformations in the locomotor system of an animal are normally related to the over or underdevelopment of a limb. Professor Pusta also touched on hereditary limb malformations, like hip malformations in different dog breeds, as well as the different surgical procedures that can correct them, like Arthroplasty and Osteotomy. As she pointed out, Veterinarians should always try first to reduce the pain associated to these deformities, before considering a surgical intervention.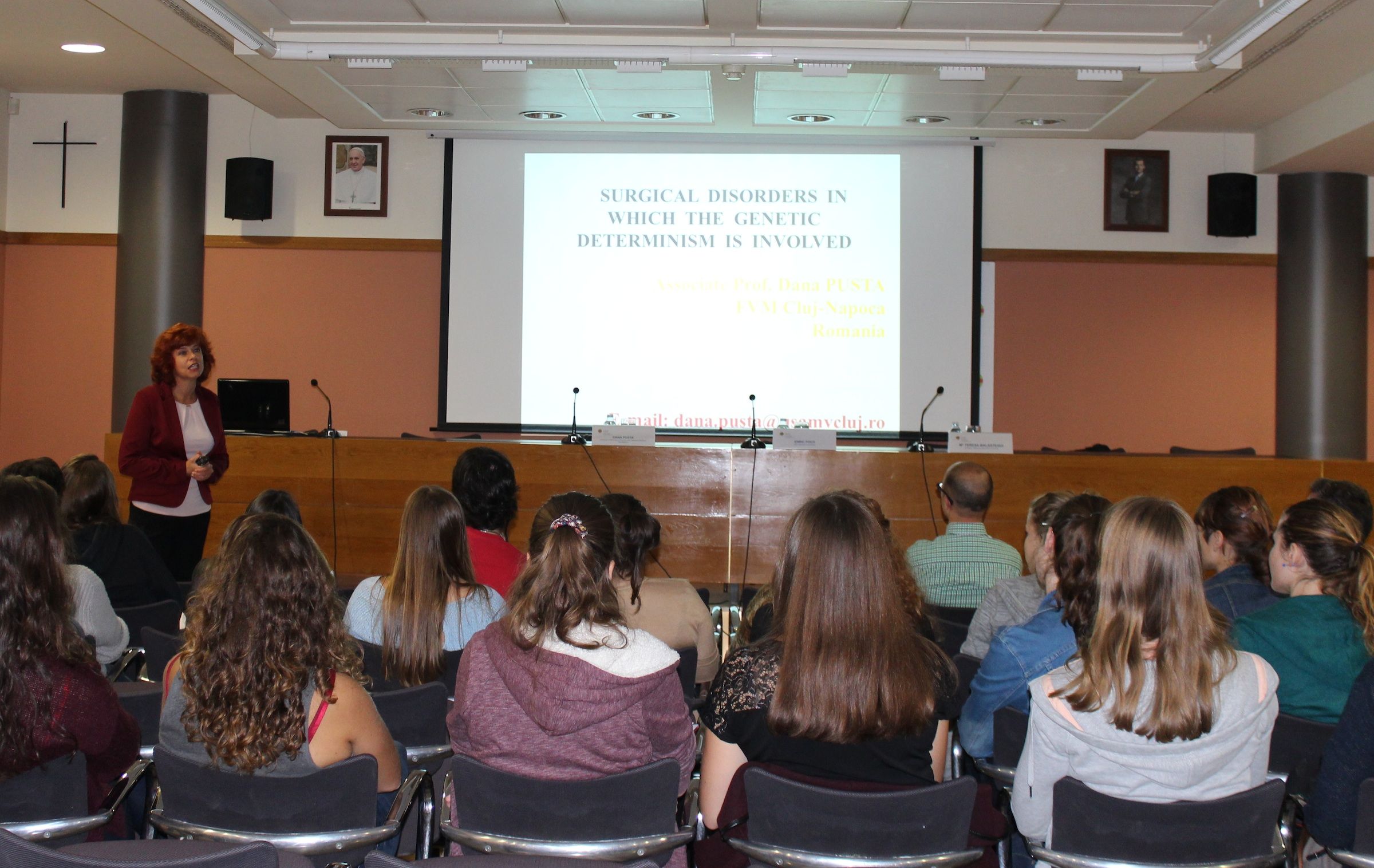 In the case of the digestive system, hereditary umbilical and inguinal hernias are the most frequent cases due to their genetic origin, as Professor Pusta concluded. As for eye conditions, anophthalmia and microphthalmia sometimes put the survival of these animals in jeopardy. Eyelid problems or excessive tearing in many dog breeds and other species can also be corrected through a simple surgical intervention. Professor Pusta also lectured on genetic diseases that can be rectifiable through cardiovascular surgery in different animal species, like chronic occlusive arterial disease.