Improving the world through art: that is what drives Alba Silla, also known under her artistic name of Alba Bla. And learning is her fuel: learning about herself and others. A CEU graduate in Advertising and Audiovisual Communication, she decided to leave behind a permanent contract at a job in the industry to explore her passion for drawing: she's just come back from completing a social muralism project in Mexico. In our interview, she told us all about this and other creative projects she has.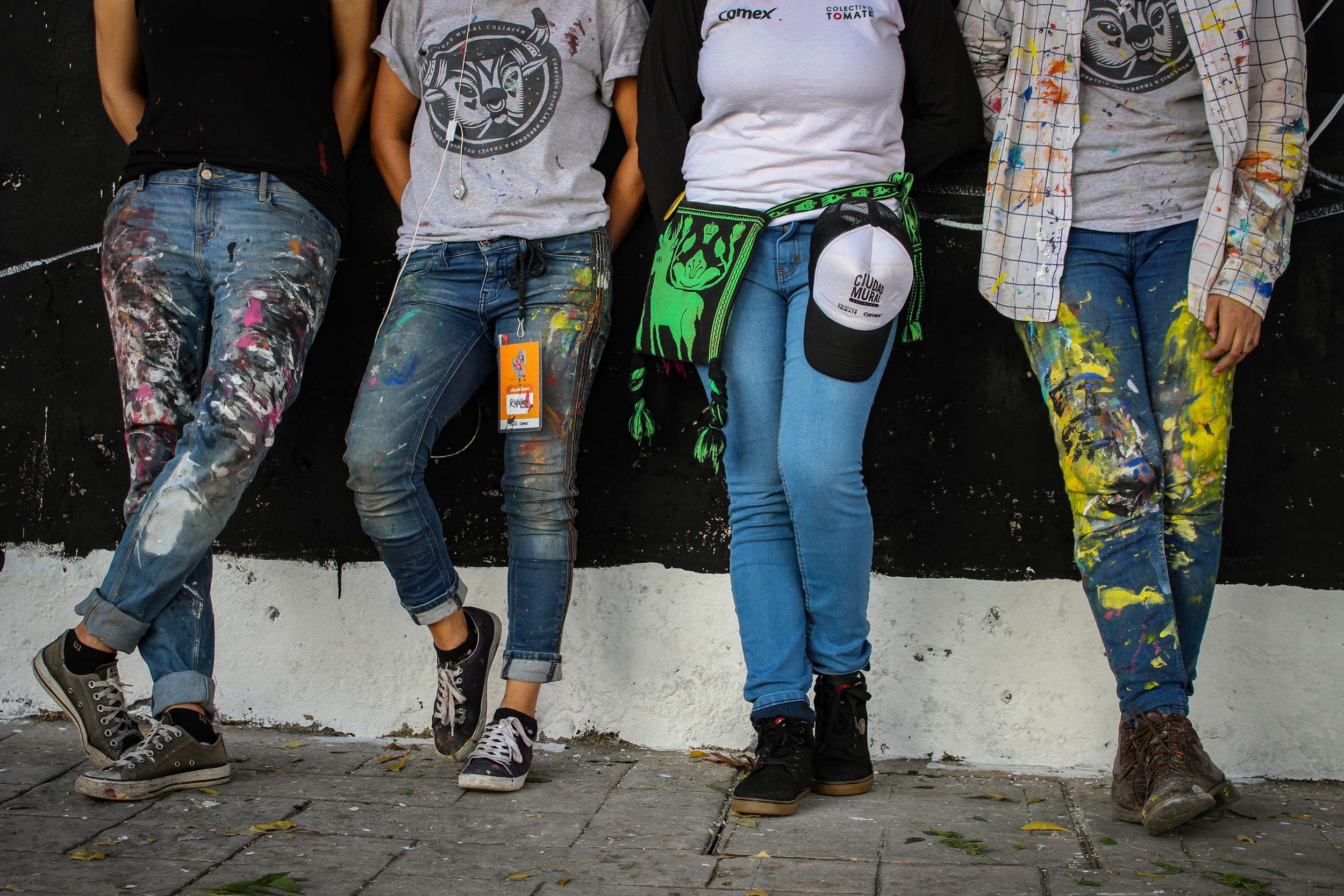 You've just got back from Culiacán, in Sinaloa, Mexico. So, amongst other things, you now have the experience of painting four murals. Tell us about it.
Yes. Ciudad Mural is an initiative from the Colectivo Tomate group, as part of the México bien hecho project, which is supported by Comex. The aim of this project is to strengthen the social fabric and breath new life into different urban areas through art. They select several Mexican and international artists for the project in each city.
During the project, you're living and working alongside other artists and members of the group, you take part in activities with the local residents, you get to know them and you hear their stories, and they're the ones you have to represent in the murals. I made three murals, one made just by me and another two in conjunction with other artists for project. And I also did another one on a private basis in Mexico City.
'I've learnt a lot from the people i've met, abouT the little i need in life and how much you gain from the generosity, friendliness and affection you can receive from people you've just met.'
How did you end up doing this in particular? We'll come back to how you got into painting itself in a minute.
I decided to go to Mexico to celebrate being 30 but then later I thought that if went there I didn't want to go as a tourist but to do something art-related. I came across the Colectivo Tomate on Instagram and I really liked their work and the Ciudad Mural project. They called for new applications and I sent in my portfolio without thinking about it too much. And then, surprise! I'd been selected.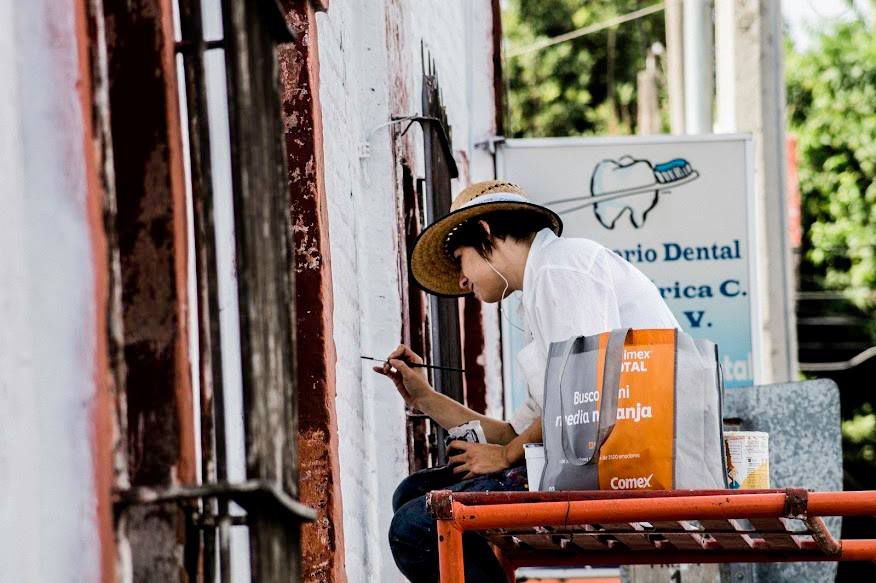 Quite a challenge.
Absolutely. To have to tell other people's stories, empathizing with them and trying to explain their experience through your art. You're channelling something and you have to do it as best you can. But it was also a really beautiful thing: talking to people, doing your own research and then sharing that with the other artists.
For example, in the first mural, Esmape (a Mexican artist) and I painted two sides of the same house. We went to interview the owner together and he told us stories about when it was built, about his wife and his children. And even though we heard exactly the same stories, our approaches were totally different. I loved that.
What's your verdict of the whole experience?
It's been amazing, much better than I could have imagined. I feel like I've really grown a lot, both as a person and as an artist. It was great to see so many people working on the same objective, to improve the area where these people live and who've told you about their lives, to have the experience of living and working alongside them during that time and then to see how happy grateful they were.
For me the whole time in Mexico has been a learning experience. It's the first trip I've done on my own and my first time on the other side of the Atlantic. And then there was very little time between being selected and the start of the project. I had just four days to decide whether I was going or not and then, ten days later, I was on the plane. I usually like to prepare well for everything and to have everything neatly planned out, so it was a steep learning curve. I only had a few things in my bag, mostly clothes to paint in. I left my laptop at home and I didn't switch roaming on for my phone.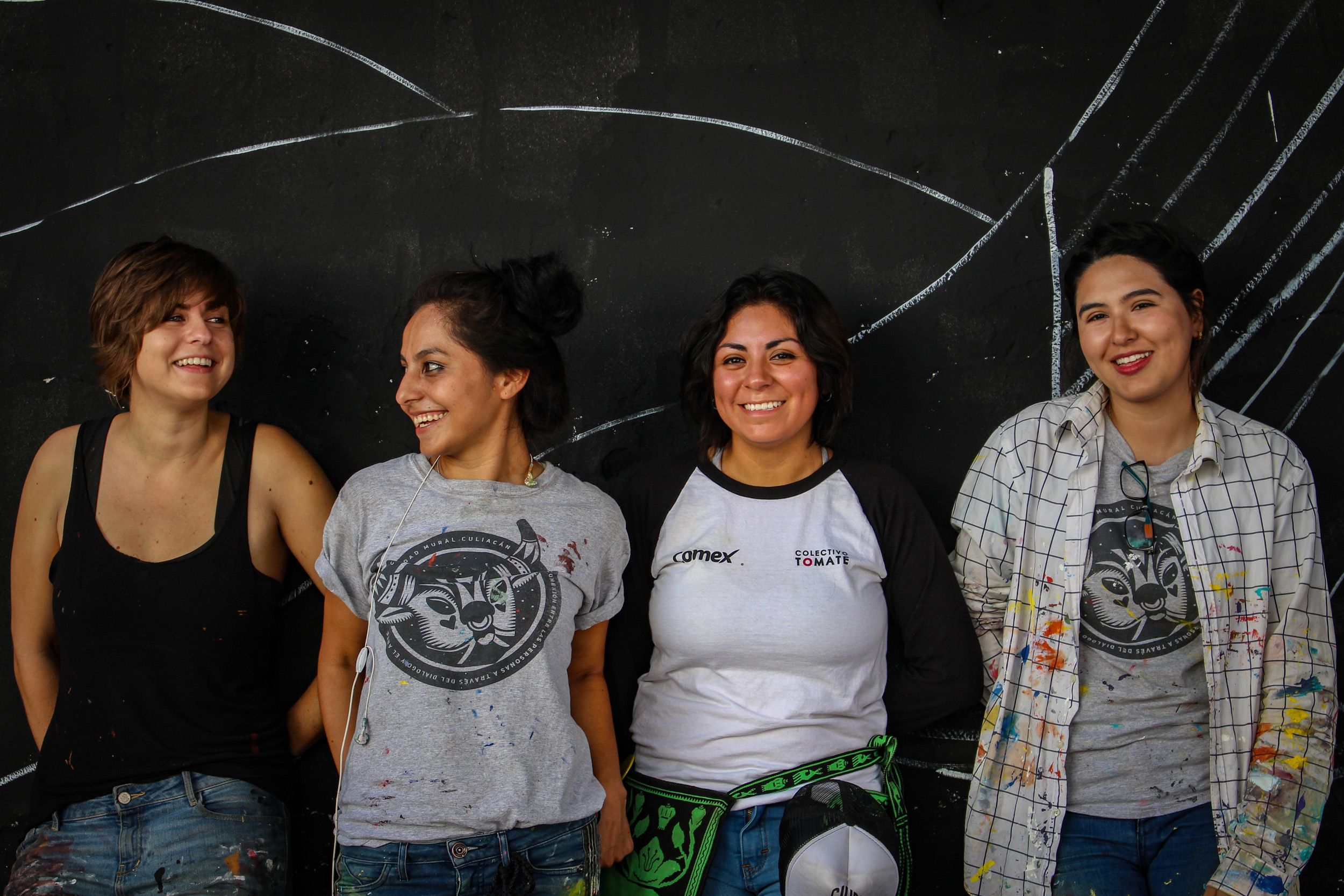 Are you the same person who went out there?
No. Any trip or experience like this really changes the way you see things. I learnt a lot about myself, overcoming a lot of the fears I had at the beginning because I was travelling to Mexico (especially to Sinaloa), I was a woman and was doing it all on my own. One day I'd like to draw and write about it, because it's really interesting. I'd never felt fear before just because I was a woman! When you realize that, it really hits you hard. I learnt a lot about myself and my fears and I've realized that that's not who I am.
I've also learnt a lot about the people I've met, about how little I need in life and about how much you gain from the generosity, friendliness and affection you can receive from people you've just met. I've also learnt to distinguish between what I really want and what I think I want or need.
And a big thing has been learning about the value of time. Here, everything goes so fast, but there, there's a different rhythm to things, people aren't in such a hurry and are calmer. Their motivation to work as part of a team and other attitudes they have really contrasts with our way of doing things.
And there are other things you learn, such as words like chido and chingón, painting with other people at the same time, that everything, absolutely everything can be eaten in a taco, setting up scaffolding, dancing cumbia, that you should never believe anyone in Mexico when they say that something isn't spicy, and that "ahorita" can mean now, later, or who knows when! (laughs)
What kind of contribution have you made?
Wow, that's a hard question! It's always easier to see what other people have done for you, but I find it really difficult to judge what I've done.
I think it would be my willingness to do anything and everything, to learn, to work together, to give everything I've got. To make hard things easier, to laugh and to make things simpler.
I also fixed the flush on a toilet, I taught people a few Photoshop tricks and I made a traditional Spanish potato omelette – and everyone ate it in a taco with chillies (laughs).
Are you going to go back?
Definitely! And soon.
Tell us more about what you're painting. After doing a dual degree in Advertising and Audiovisual Communication, you worked as a junior art director, as a graphic designer, and in communication at prestigious companies – and then you decided to take a left turn in your career.
Yes. I decided to take the plunge and work as an artist because of a series of things that happened, some of them personal, that really had a big impact on me and led me to take drastic decisions. Drawing is what saved me.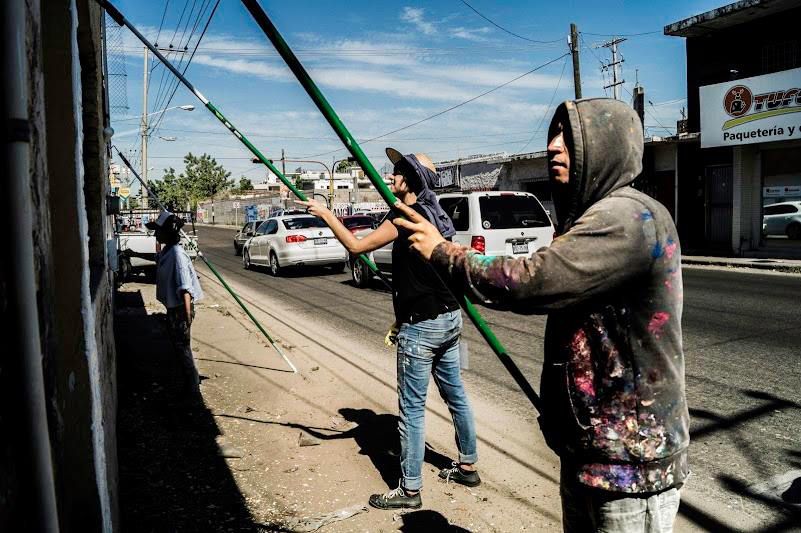 You didn't like the jobs you had?
I can take positive things from all the jobs I've had and I learnt something at every one. I did like working in communication. I like telling stories and, in one way or another, that's what I've done in every job I've had.
I think that what I didn't like was not being able to stretch my wings and not having freedom, because all that was required of me was to do things that had already been done, things that worked and were safe. I didn't like that, because it's boring and in the end you lose interest in what you're doing.
It can't have been easy to start again from scratch.
It certainly wasn't. It was a difficult time because it really did mean starting over. At first I did freelance work in graphic and web design, which I knew well, but then one day a friend "made" me do my first exhibition of my drawings (which had never been seen before outside my sketchbooks). After that, I tried selling my stuff at an illustration fair. That went well, and then projects have come to me bit by bit since then.
It's been a difficult path because you study for two degrees, you get a job and, yeah, that's great but you're exhausted. You're trying to do the things you're supposed to be doing but it's not fulfilling and then you realize one day that what you really like doing is drawing. But if it seems crazy to leave a good job, then, to say "I want to draw for a living", well, that's crazier still.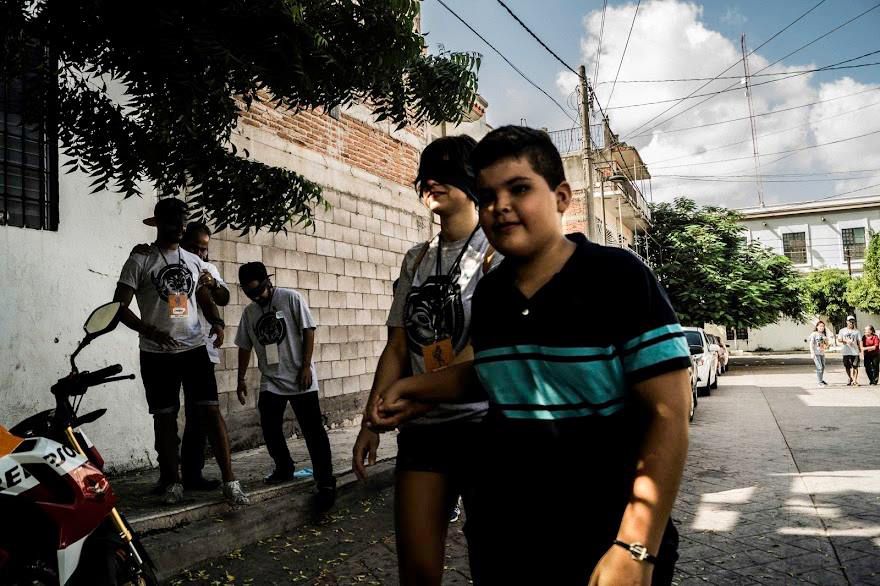 Were you really sure that it was what you wanted?
Yes. I stopped and asked myself what it was that I would like to be doing for the rest of my life, the ideal job that I would do even for free. And for me, that's drawing.
After getting past that hurdle of being honest with yourself, of realizing what you're really passionate about, then things are still hard, because there are new objectives, you doubt yourself, and there are many things that you don't know how to do. But at least you know you can draw the problem (laughs) and then you start overcoming and learning from the challenges life puts in front of you.
'I THINK THE WORLD CAN BE IMPROVED IN TWO WAYS: BY BEING AND MAKING YOURSELF THE BEST PERSON YOU CAN BE AND BY BEING AN EXAMPLE TO FOLLOW, CONVEYING AND SHOWING OTHER PEOPLE THAT IT CAN BE DONE.'
One of those challenges was the murals project in Mexico. Any others?
Yes: illustrating a collection of children's stories Contes familiars to promote family diversity.  I met the authors, Antonia Cardona and Natalia Ferrús, at an illustration fair. They saw my drawings and came to speak to me. We got together a few days later, they told me what the project involved and we started to work together. In December 2016, we launched a crowdfunding appeal to fund the publication and it was a success! We published it in February 2017 and in the middle of this month we're bringing out an edition in Spanish.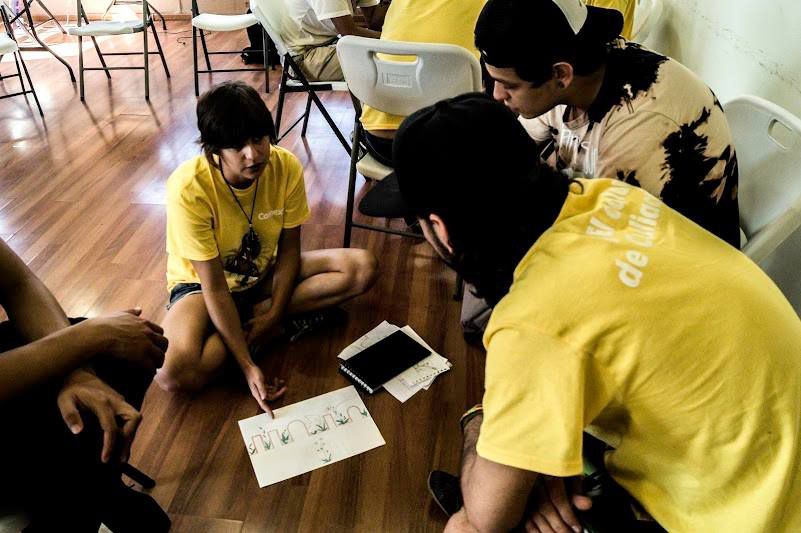 What does a project have to have to appeal to you?
I have to feel a connection. I suppose that means that it has to transmit the same values that I believe in.
I really believe in the gut feeling that I get right at the beginning when I'm presented with a project. I have to believe in it, that it would contribute something to the people it's aimed at. It has to have meaning or some kind of common benefit.
In fact, the two projects I've talked about are both inspired by people and for people. Both aim to improve people's lives.
'THE THING I VALUE MOST FROM MY TIME AT CEU IS LEARNING about HOW TO WORK AS PART OF A TEAM. WHEN YOU'RE WORKING ON A PROJECT WITH OTHER PEOPLE, YOU HAVE TO WORK TOGETHER TO GET THE BEST POSSIBLE OUTCOME.'
Do you think that art and creativity can make the world a better place? How?
Of course! Art is a language, a means of expression with which you can convey and communicate things, right? I think the world can be improved in two ways. The first one is by being and making yourself the best person you can be. And the second one is by being an example to follow, conveying and showing other people that it can be done.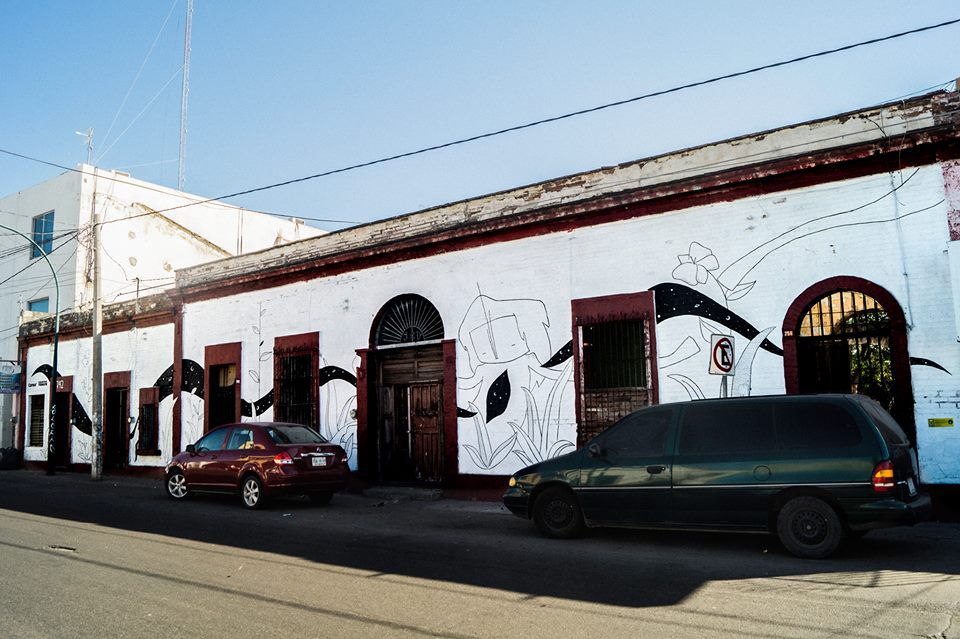 And what do you bring to the projects you take part in?
When I start work on a project, I give it everything I've got. If I get involved in something, it's because I believe in it, I believe in what the project represents. I bring enthusiasm and a lot of desire to do things, to learn and to share with others my vision and skills.
I really put my heart and passion into the things I do and, for me, there's no difference between what I do on a project and who I am. So, that's why I give everything to what I'm working on, my brain works overtime, and I research things. And something which I've realized lately is that, from everything I've done, studied and worked on, there's always been something new I've learnt, which I could then take with me to the next project.
'MY ADVICE TO STUDENTS WOULD BE TO FIND OUT WHO THEY REALLY ARE AND TO BE TRUE TO THAT PERSON. aND ALSO TO MAKE MISTAKES!'
What did you learn or do you value most from your time at CEU?
Working as part of a team. Both Audiovisual Communication and in Advertising in later years, there was a lot of group-work and I learnt to see the value in each part of a project and, above all, that when you're working on a project with other people, you have to really work together to get the best possible outcome.
Something else I really value is not a thing but a person: Pepe Martínez. He was my personal tutor in the second year, and then from the get-go, I've not stopped asking him questions, telling him about the things that are going on, asking for his advice, and, of course, almost always doing the exact opposite (laughs).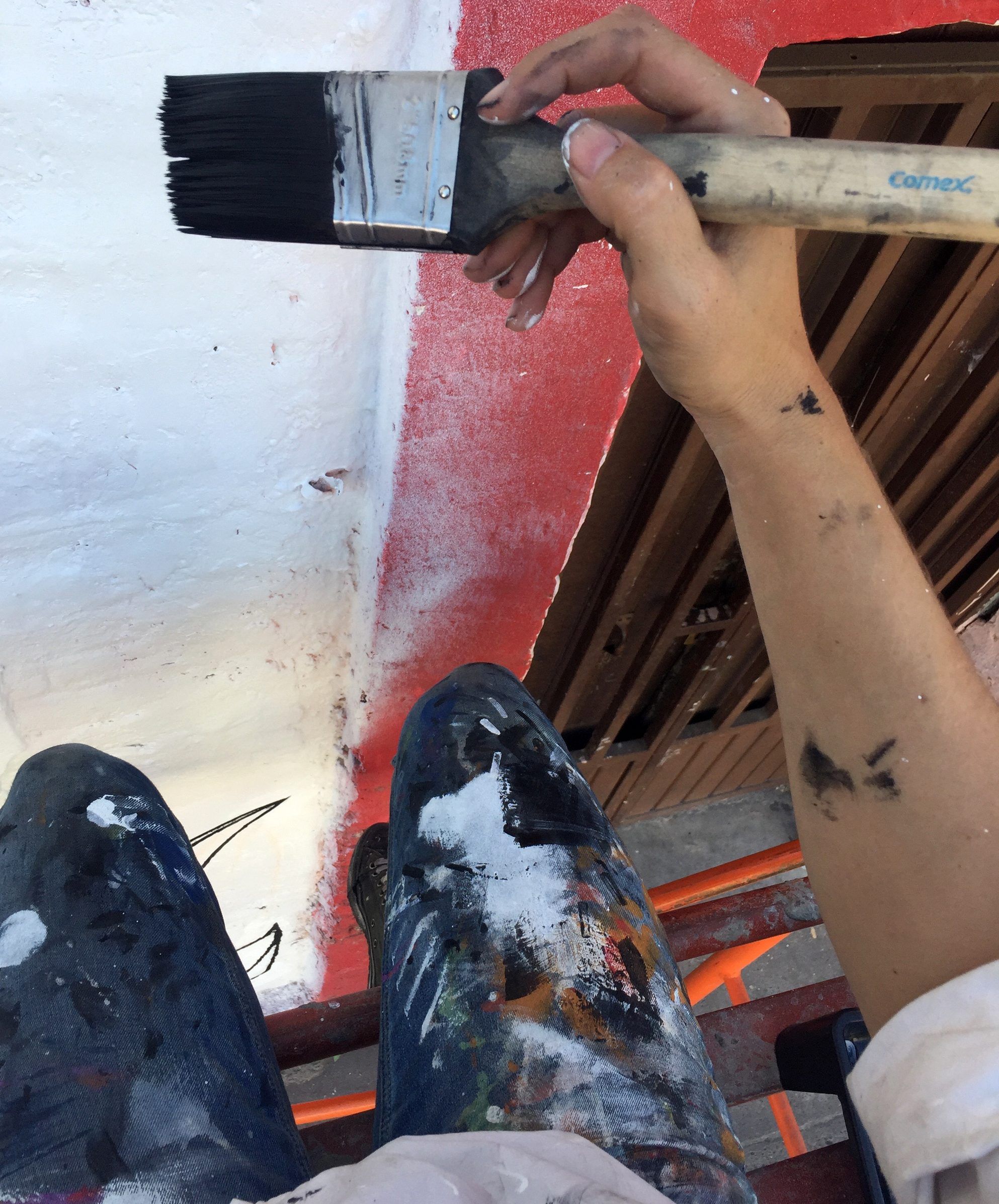 Let's go back to the future. Where do you see yourself in a few years?
For now, apart from publishing the stories in Spanish and going back to Mexico, I'm planning to publish a book and do an exhibition, but it's all still in development.
It's difficult to see too far into the future, but I hope to paint a lot of murals, publish and illustrate several books and help other people to tread the same path.
Well, we can help you to help others now. What advice would you give to those starting out on the creative path?
I'd say: believe in yourself and what you feel. It's a cliché, I know, but there's a time in life in which you think you want what you've been told you should want, if you know what I mean. But, with time, you realize what it is that you really want. We could sum it up with: find out who you really are and be true to that person.
And also: make mistakes!