Lola Martínez knows that sometimes in life you have to roll your sleeves up, get your hands dirty and really put what you know into practice to make the world a better place – both now and for the generations to come. A CEU graduate, she juggles her roles a journalist and a mother and somehow finds the time to participate in the activities of the NGO Formación Senegal.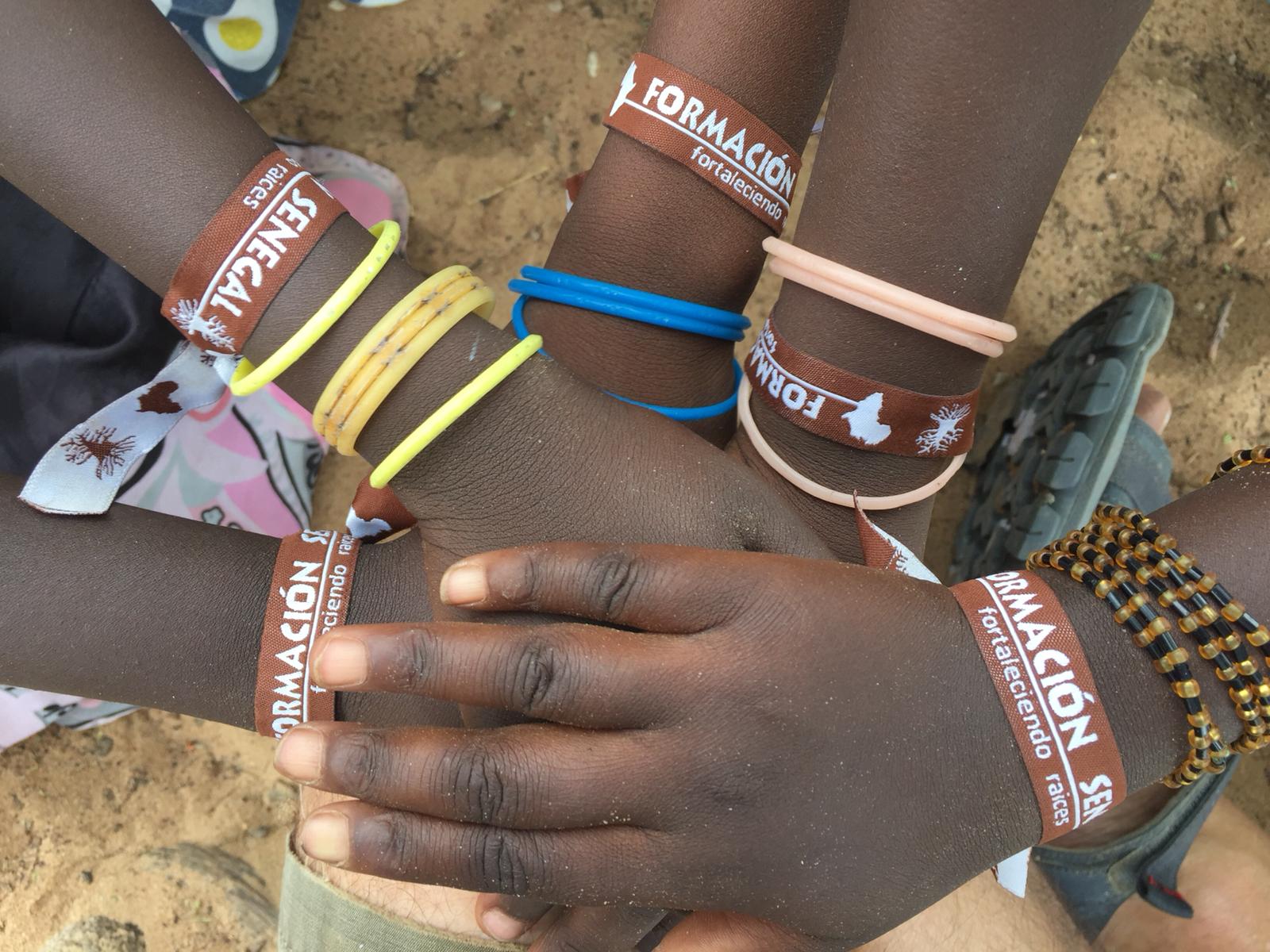 "We're not different." That's what you say on your website. Are you sure about that? Not everyone organizes initiatives as ambitious as Formación Senegal.
Well, we're ordinary people – we're not different or special. We all have jobs, families and commitments and we find a way to balance our other commitments with our work for the NGO.
In my case, I'm currently a content creator for different types of film and video productions.
THERE'S A LOT OF WORK TO DO TO IMPROVE SOCIETY AND WE'RE ABSOLUTELY SURE THAT WE WANT TO Be INVOLVED, TO GET OUr HANDS DIRTY. WE want TO MAKE A CONTRIBUTION, EVEN IF ONLY A SMALL ONE.
You're also a mother. It can't be easy to find the time to do everything.
(Laughs.) Everyone who works for the NGO is a parent. But you can find the time by cutting back a little bit on sleep and with the priceless support of the grandparents. We can't thank them enough.
It's also the case that this volunteering project is an excellent example to give to our children – they also get involved as much as they can.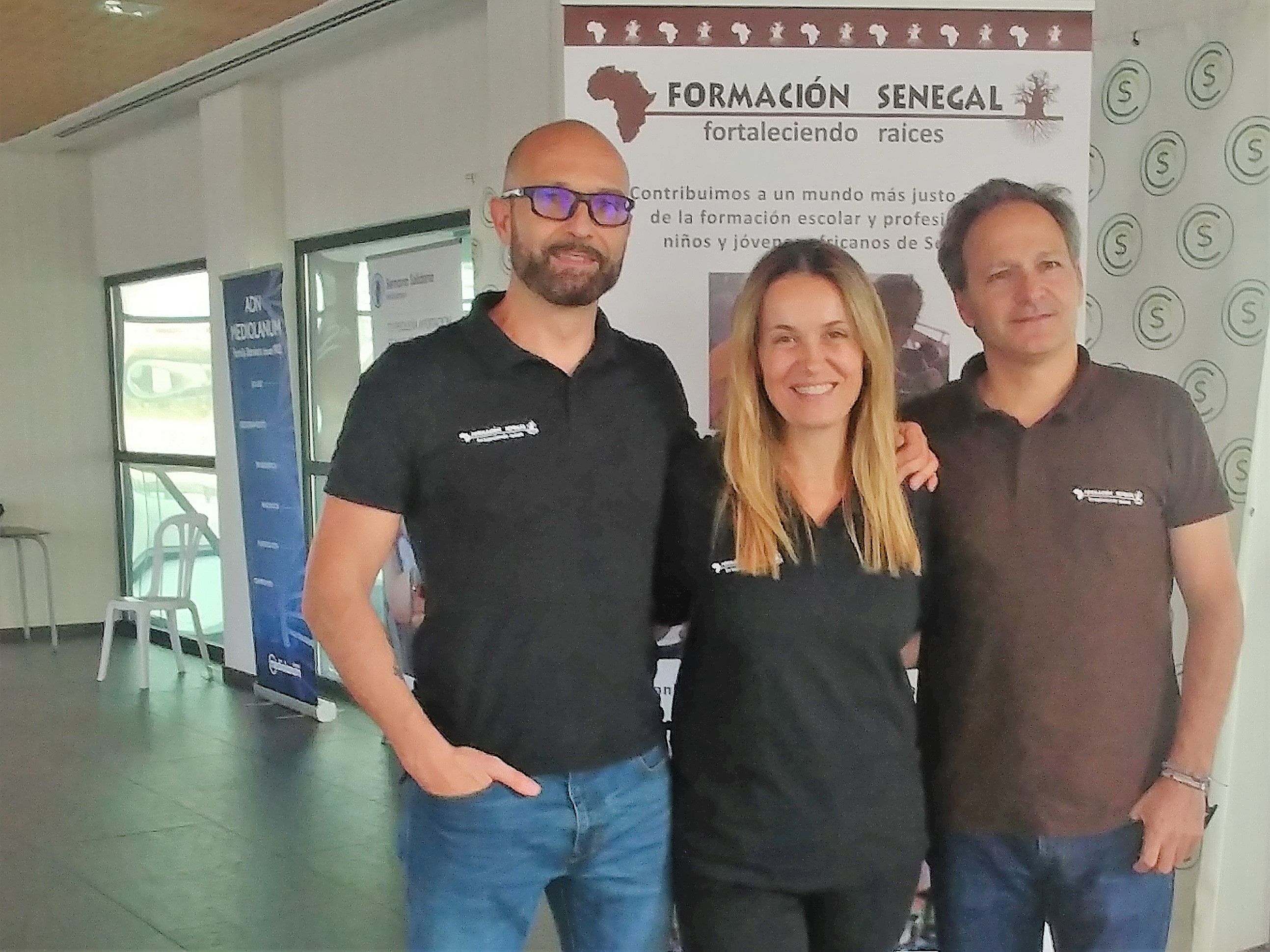 What led you all to start this venture?
I think that when you reach a certain age you stop navel-gazing and you start to observe what's around you a bit more. There's a lot of work to do to improve society in many areas and we're absolutely sure that we want to be involved and to get our hands dirty.  We want to make a contribution, even if only a small one.
Why Senegal?
Simply because Toni, who's a teacher in Valencia, told us one day about a project he had in mind – he got lost during a trip he was taking in Senegal and the people there helped him – and we decided to join him on this crazy adventure.
OUR AIM IS TO BUILD A SELF-SUFFICIENT VILLAGE WITH ITS OWN NURSERY, A TRAINING CENTRE, A VEGETABLE GARDEN AND A MEDICAL CENTRE. aND THEN WE'D LIKE TO SEE THIS PROJECT IMITATED RIGHT ACROSS THE SAHEL DESERT
You've mentioned Toni Zamorano, the project founder. The other members of the NGO are Manu Laguía (also a CEU graduate), Ursula Strasser, Inma Banacloche, Fallow Mbow, in Senegal, and then there's you, in charge of communication and events. Less is more?
Yes. It's good that there's just a few of us, because that helps us to keep the focus on our objective. We do this because we're passionate about it and we don't want to get too big. This way we're all directly involved in the project and we can put our heart and soul into it in a straightforward way.
education is required so that these men and women can have employment, a profession, so that they don't need to risk their lives coming to europe.
What's your goal?  
It's ambitious: to build a place which is self-sufficient in the desert, in Ndem, four hours from Dakar, made up of a nursery, a training centre, a vegetable garden and a medical centre. And then we'd like to see this project imitated right across the Sahel Desert.
There's no doubt that education is the most powerful way of changing the world. That's what's required so that that these men and women can have employment, a profession, so that they don't need to risk their lives coming to Europe.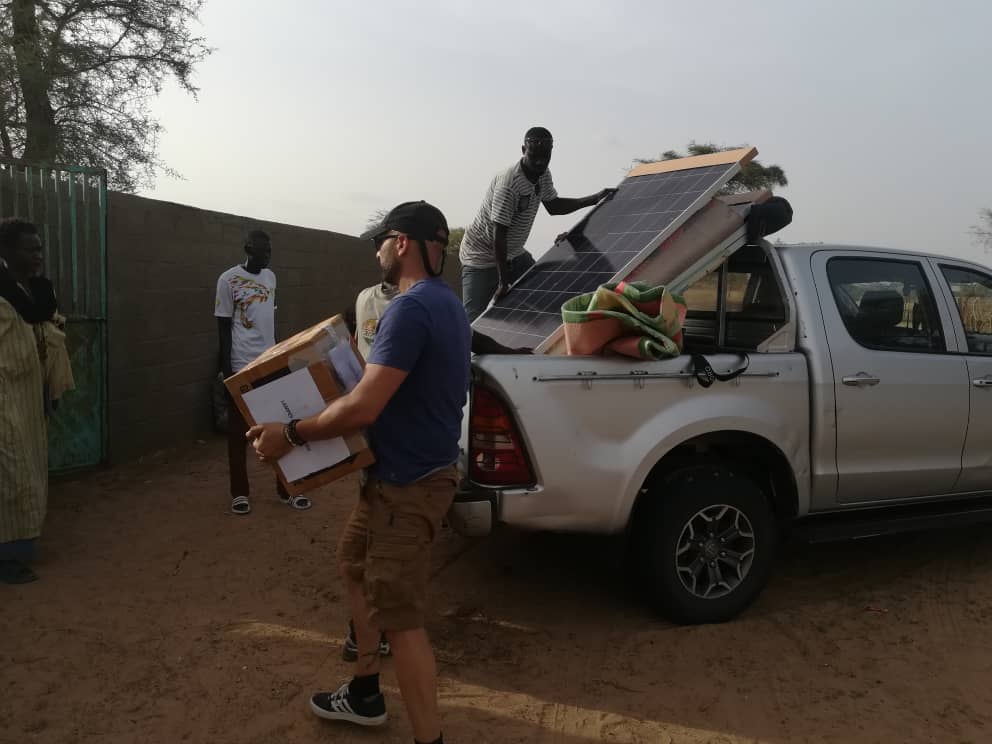 The drama of forced migration.
Yes, unfortunately it is an issue which is in the news and yet there's a lot of misinformation. People risk their lives because there's no other way out for them where they come from. They love where they're from, but they can't live there and that's why they do it. We want to finish this project and then see it imitated in other areas of Africa, so that these people won't need to leave and can stay and contribute to the development of their countries.
What are you doing to achieve this? 
When we started the NGO, we focused on the basic things: school materials, medical supplies, clothes, sunglasses (there are very high temperatures and the children have to protect their eyes). All the stuff that was most needed. We would appeal for materials, ask pharmacies for help, or parents at our schools – the usual.
Then we experimented with a vegetable garden and kept on bringing supplies of all kinds.
WE'RE GOING TO OPEN A VOCATIONAL TRAINING CENTRE, AND ALTHOUGH WE DO RECEIVE HELP FROM COMPANIES AND PRIVATE INDIVIDUALS, WE STILL NEED MORE FUNDING. SO, IF ANYONE READING THIS WANTS TO HELP US, WE WOULD BE DELIGHTED TO HEAR FROM THEM.
They didn't have their own crops?
The effects of climate change are particularly severe in these areas, which around twenty years ago were green.  Now they're just desert, which prevents the growing of traditional crops and normal life.
I can't understand how there are still people who aren't aware of climate change. It's taking areas which were already very depressed to the limit. And Senegal is one of the poorest places in the world.
The experimental vegetable garden I mentioned uses drip irrigation and helps them to become self-sufficient.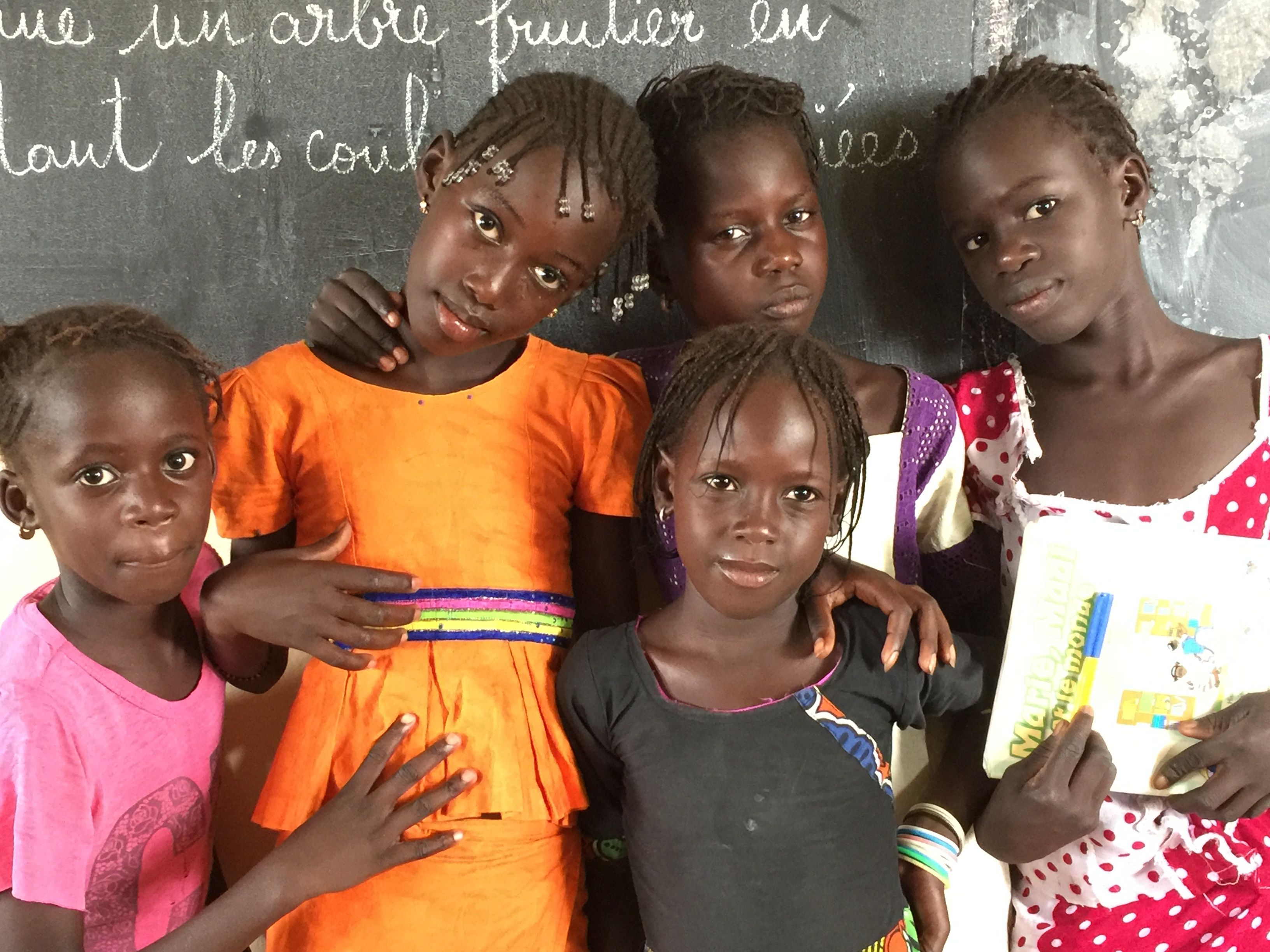 What other things does Formación Senegal have in the works?
What we did this last summer was to start the project called Una luz en la casa y en la escuela ("a light at home and at work"). We installed solar panels so that they could have light and electricity and could recharge their torches. The children used to use candles to do their homework, which was very dangerous.
While we were installing the panels, we also trained some of the young adults in how to maintain them.
With these solar panels, the children and adults were able to experience cinema for the first time. It was amazing, quite apart from the fact that film is a great educational tool. You should have seen their faces!
I CAN'T UNDERSTAND HOW THERE ARE STILL PEOPLE WHO AREN'T AWARE OF CLIMATE CHANGE. IT'S TAKING AREAS WHICH WERE ALREADY VERY DEPRESSED TO THE LIMIT. AND SENEGAL IS ONE OF THE POOREST PLACES IN THE WORLD.
It must have been incredible. What educational projects do you have in place?
Now, we're working on a nursery school we call Playschool, and we hope to be able to go out to Senegal soon to set it up. It's important to bear in mind that children there, if they're lucky, go to school from seven years old onwards, and so they miss out on a lot of the educational stimulation they could get at an earlier stage. Also, women who have to take care of small children cannot go to work. So, the project aims to address two problems at the same time.
We try to implement all the projects with local, ecological and sustainable materials. For this project, we've got all the materials and furniture for the children, but we still haven't got the physical structure which will house the nursery.
We're also working with women there to improve the medical centre and we really need an ultrasound scanner and other supplies. The nearest hospital is four hours' walk away in Dakar. When the women go into labour, there's no way to know if it's going to be a breech birth or if there might be some other problem. As you can imagine, many people have died because they couldn't get the right help in time.
We shot a documentary last year which we're now editing. We want people to know more about what life is like there and hopefully learn from it.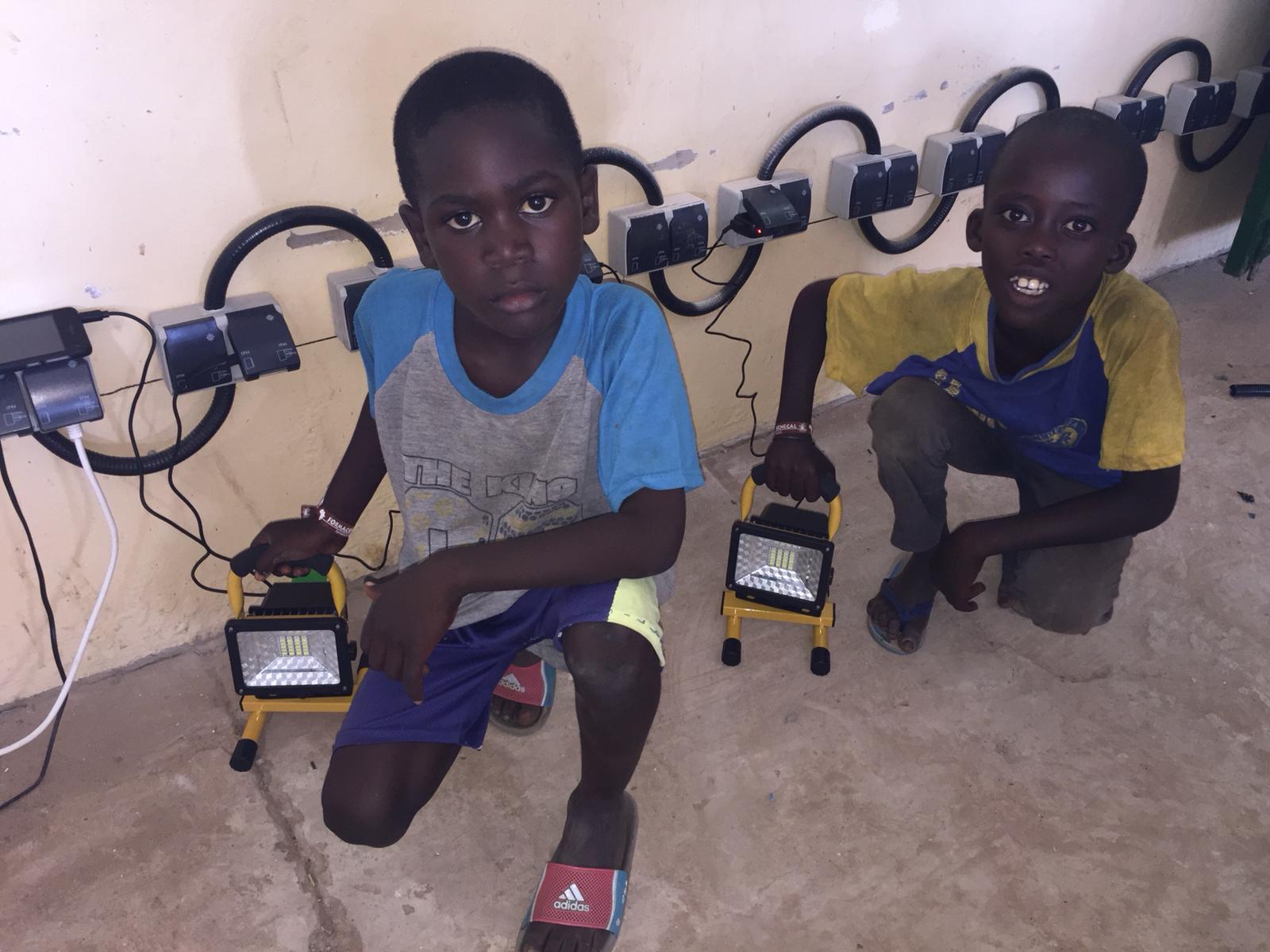 You've got a lot on the go. In the longer term, you plan to set up a vocational training centre. How are you going to do that?
We've got the project planned out, but the fact is, although companies and private individuals from the Valencia are supporting us, we're short on funds. So, if anyone reading this would like to help us, we would be delighted to hear from them. Most especially, I'd like to appeal to other alumni. It'd be great if this interview could help us to come into contact with more people willing to help us through the CEU network.
The training centre aims to be open to both young men and women. We want them to be able to undertake a complete training course with an official certificate at the end of it. Education is its own kind of wealth and dignity.
WE'RE GOING TO SET UP A NURSERY SCHOOL. THE CHILDREN GO TO SCHOOL AT SEVEN YEARS OLD, SO THEY MISS OUT ON THE EDUCATIONAL STIMULATION THEY COULD GET AT AN EARLIER STAGE. aND WOMEN WITH SMALL CHILDREN CAN'T WORK. THE PROJECT ADDRESSES BOTH PROBLEMS.
You've been working now for almost four years to improve the lives of Senegalese people. Are you happy? Are you satisfied with the results?
More than happy. Projects like this really change your life – it's more than a cliché. I never thought I'd take part in a social cooperation project like this. We were all a bit scared at the beginning, but now I think it's one of the best decisions I've ever made. I've been lucky enough to receive a great education and I remember my time at CEU with great affection, because we learnt about values. I think all human beings have a right to receive an education, which forms the basis of human dignity.
We are satisfied, but there's still so much more to do. But we're working on it. Sometimes, it's scary to step back and think of how many things we still have to do.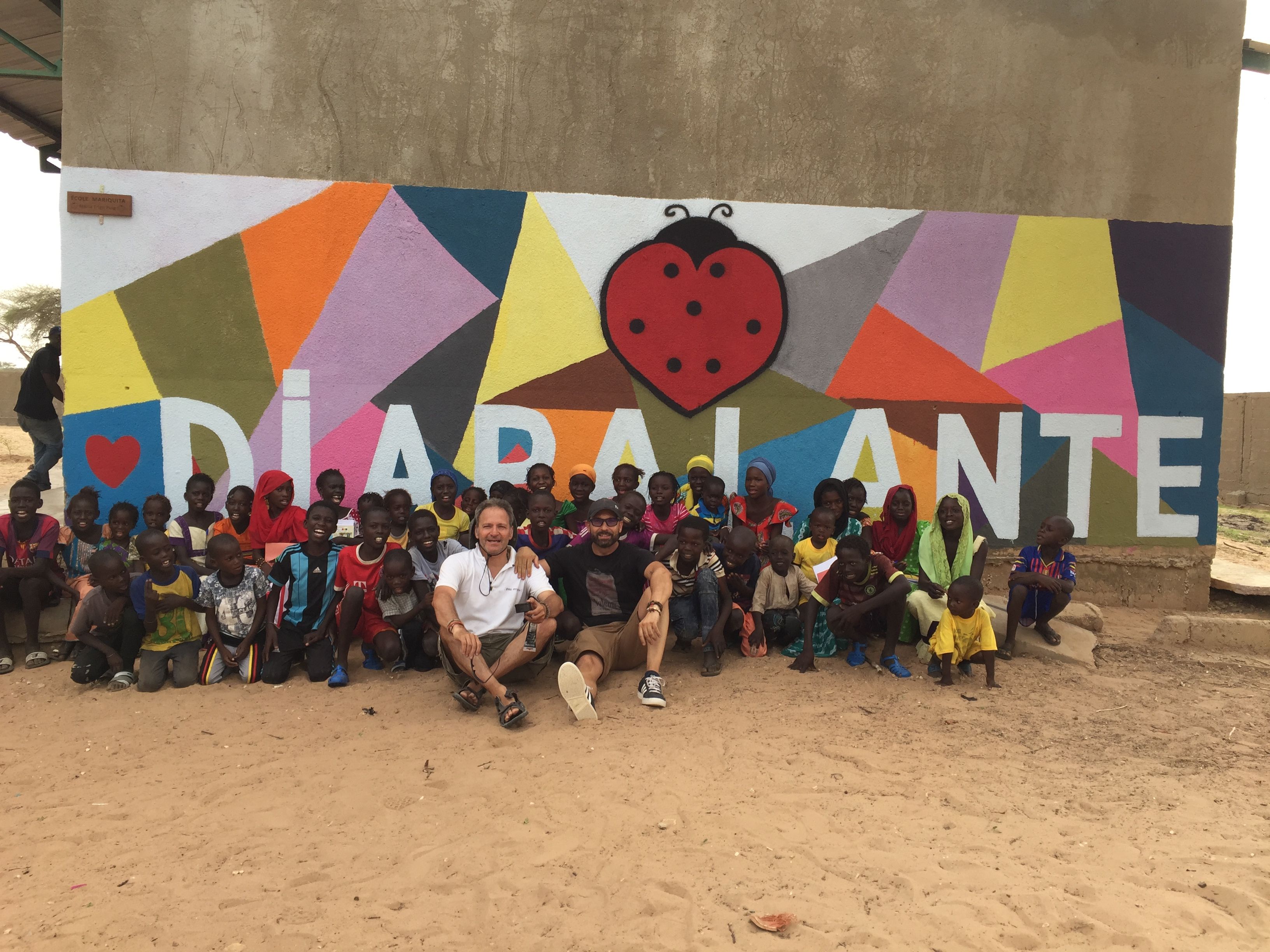 Apart from the results of your initiatives, what impact do you think you have on these people's lives? And what about their impact on you?
They give back a lot more than we give to them, there's no doubt. In fact we have an initiative called Escuelas con corazón ("Schools with a Heart") and we do a lot of activities for that with children here and over there.
They are wonderful people, with a spirituality which has been lost in the Western world. They show us the real value of sharing, of working with a smile on your face.  Their generosity has no limits. We have a lot to learn from them.
One thing that really impresses us is that the children all applaud each other when the school reports are given out at the end of the year and they congratulate each other. There's genuine affection among them. Things like bullying and sexism don't exist there, everything is everyone's, and in the Sahel there's also enormous respect for the role of women in society.
Ndem is a settlement which was established by a white French woman and her husband. They met in the Sorbonne, in Paris, but he was from Senegal. So, they decided to go back there and try to improve living conditions there. They're getting on in age now and are the spiritual leaders of the community. Their children are continuing their work.
THEY ARE WONDERFUL PEOPLE, WITH A SPIRITUALITY WHICH HAS BEEN LOST IN THE WESTERN WORLD. their GENEROSITY HAS NO LIMITS. WE HAVE A LOT TO LEARN FROM THEM.
Do you think civil society should show a greater commitment to creating a fairer world?
If we don't show that commitment, who will? I also think it's an example to set for our children: being open-minded and showing solidarity are key values for all human beings. The people our children end up being depends on what we do, not what we say.
I think we can't rely on governments and politicians and living can't just be about existing. We have to really live our lives, by making a contribution and trying to leave the world a better place. That will be our legacy to the next generations. Just complaining or supporting causes from our smartphone isn't enough: we have to act. And we can all do that by doing little things that, together, turn into something big. Making a difference isn't about going to poor places and taking selfies: it's about rolling your sleeves up and doing everything you can to change things.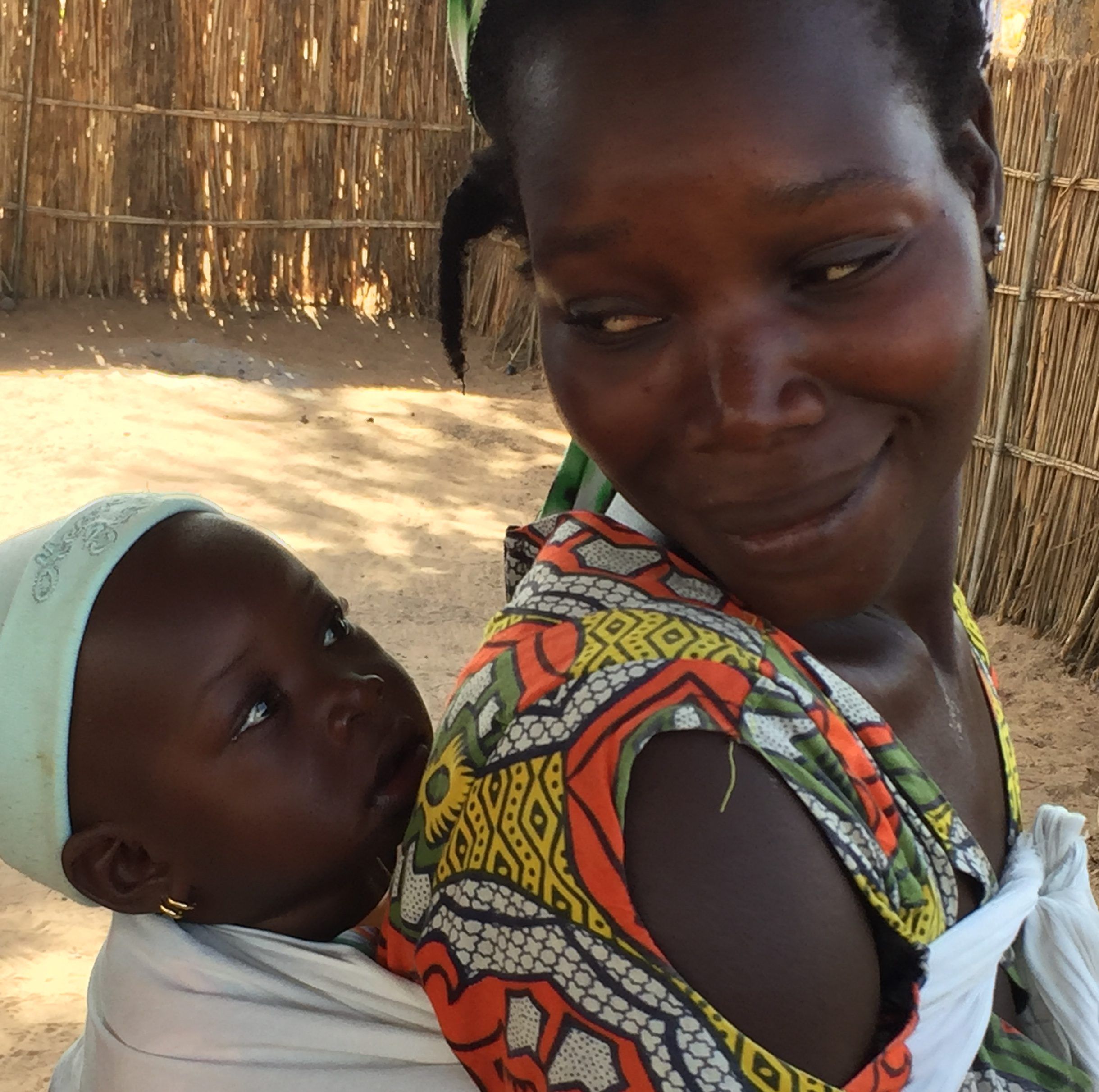 Do you think people show enough social commitment?
I think people show more commitment than we think. People are kind, as a rule, and many people want to do something, but don't know how.
Many companies have helped us and continue to do so, demonstrating the kind of corporate social responsibility that we hope will continue to spread.
IF WE DON'T SHOW COMMITMENT, WHO WILL? IT'S ALSO AN EXAMPLE TO SET FOR OUR CHILDREN. THE PEOPLE THEY END UP BEING DEPENDS ON WHAT WE DO, NOT WHAT WE SAY.
It seems fair to publicly recognize the support you receive, which may encourage other companies to show similar support. Who is helping you to achieve everything you do?
Absolutely, because these are companies that have supported us right from the beginning. They've treated us brilliantly and didn't show us the door when we presented our project to them. Our heartfelt thanks go to: Clínica Sanchis Cardona, Leadertecna Consultoria I+D+i, TVA tecnología del vidrio y del aluminio, ERRE Arquitectura, Promotora Aticum, Fermax, Boluda Corporación Marítima, Estimado José Alfredo, NRG Investment & Consultancy, Cementval, Corporacion F. Turia, Plastinsa, Fundación Cuadernos Rubio and Banco Mediolanum, and then there've been specific contributions made by TVA (tecnología del vidrio y aluminio), Cirkuit Planet, Tancomed and Pawlonia high quality.
The fact is that all companies should undertake corporate social responsibility activities – we all win in the end.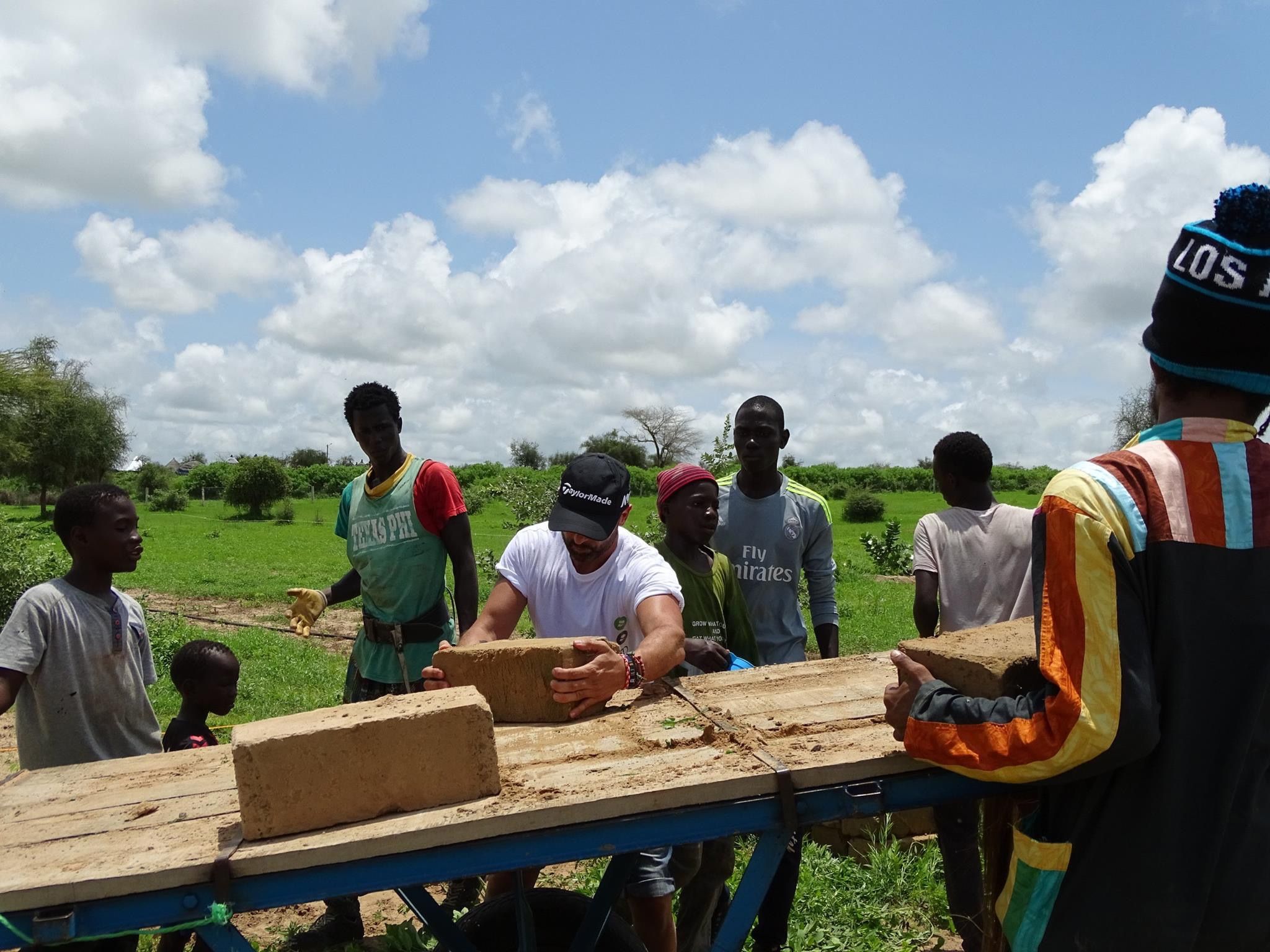 As the main focus of Formación Senegal is education, let's stick with that. You're a CEU Journalism graduate. What do you remember from your time at the University?
They were five wonderful years. I remember the nerves at the beginning because when I joined no-one had actually graduated from the Journalism degree yet (I'm a dinosaur!), but I really enjoyed it. We had great facilities and excellent lecturers. And of course then you had those never-ending debates over coffee and in the corridors over whatever was in the news.
I look back on my graduation day with a lot of affection, with the Gaudeamus igitur hymn we all sang. And then I also remember my classmates, and I've bumped into a lot of them again along the way.  There was a great atmosphere and top-quality academic staff.
MY FIVE YEARS STUDYING JOURNALISM AT CEU WERE WONDERFUL. WE HAD GREAT FACILITIES AND EXCELLENt LECTURERS.
Your education in communication skills has obviously helped you in your career, but has it been useful for your volunteering activities?
Being a trained journalist is very useful for many projects. Communication is a key task for any NGO. Without effective communication, the project wouldn't have gone forward. You've got press releases and posts on social networks and you need to actively listen to your followers. There's a website, a blog and a documentary. Without communication, whatever you're doing doesn't exist for the rest of the world.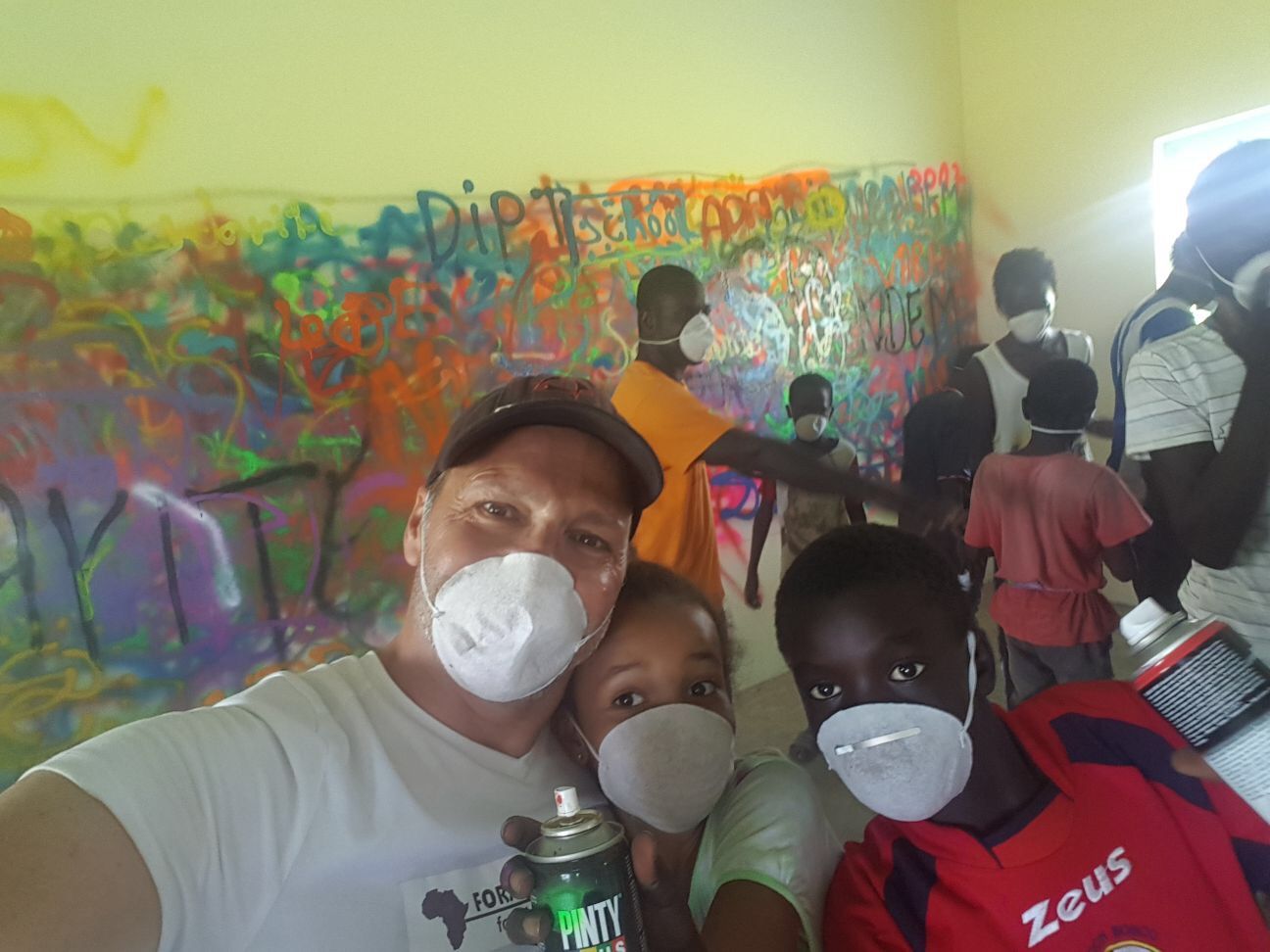 It could be that this interview could inspire students to volunteer for a good cause. Do you have anything to say to them to push them over the line?
Don't think about it too much: go for it. You're going to feel as if you have super powers when you join a volunteering programme and, from a more selfish point of view, you're going to be much happier. Use the knowledge you have and what you're learning to make things better. And never forget a key ethical principle: in the end, we're all people.
BEING A TRAINED JOURNALIST IS VERY USEFUL FOR MANY PROJECTS. COMMUNICATION IS A KEY TASK FOR ANY ngo. wITHOUT COMMUNICATION, WHATEVER YOU'RE DOING IS INVISIBLE.
Any other advice for those looking to make a career in the media?
Education and training (of course!), hard work and perseverance.
Enjoy what you do. You can't put a price on doing what you like doing and getting paid for it. Read as much as you can (it all helps) and try to find you niche in the communication business, which is huge, and then specialize in that area, be the best at that and never stop learning new things about it.