Oops!…We did it again! More than 40 international candidates and their families attended our last Open Day, which was held on March 10th in our main campus in Alfara del Patriarca. Coming from countries like France, Singapore, USA, Finland and Dubai among others, our candidates had the opportunity to attend several information talks and visit our facilities.
Numerous sessions ran throughout the day including those about our admission process and the different services offered to international students at CEU Valencia, with all the information delivered simultaneously in English and French. Candidates for Veterinary Medicine, Dentistry, Nursing and other health-related degrees could therefore solve their queries regarding all the administrative procedures needed to apply to CEU, and could also share their experiences with some of our current students, who joined us during the pause for an informal – yet highly enjoyable get-together.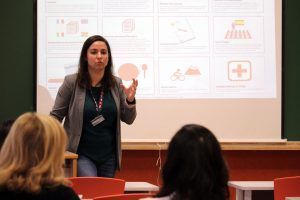 Among the sessions that grabbed the most attention, the one held by our Hospitality Office tops the list. No wonder, we offer a great array of welcome services aimed at facilitating our students' arrival in Spain: support with the accommodation and management of all the academic and administrative documentation, among others. As a new feature this year we also presented Ucare, an extension of our support services that will from now on spread out during our students' whole academic life.
Other services like Campus Life were also present on the Open Day, highlighting some of the exciting activities in which our students can participate throughout their stay at CEU: clubs, cultural outings, sports events…there is no ending to the fun!
But of course the event was also combined with a visit to our different faculties, a perfect occasion to see in person the places where all the action will be taking place once these candidates become students. Led by the international coordinators of each faculty, applicants were guided through the classrooms, labs, the new Vet Clinic and some of them even had the chance to visit our brand new Faculty of Health Sciences, which will be opening really soon!
Everyone here at our International Relations Office would like to say THANK YOU to those who attended, we hope you enjoyed your visit to our university and your stay in Valencia! And for those who couldn't attend but would have liked to, don't worry: our next Open Day will take place on May 12th, so save the date and sign up now if you want to reserve your place.
We look forward to meeting you all! 😉