Three students who have worked in the Spanish diplomatic headquarters in South Korea, Saudi Arabia, and Germany share their experience with their fellow CEU-UCH students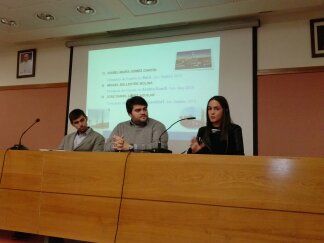 Thanks to CEU-UCH´s agreement with the Spanish Ministry of Foreign Affairs, students from this university can do work experience in consulates and embassies across the entire world. The International Relations Office, with the help of Professors Esperanza Ferrando and Susana Sanz (Faculty of Law, Business and Policy), organise these internships, the application procedures and the admissions process. Academic transcripts are as important as knowledge of languages.
Three CEU-UCH students that have enjoyed this international work experience have shared their impressions with students interested in doing this type of work experience in the diplomatic field abroad. Isabel María Gómez García shared her experience, which lasted from June to September 2012, of the Spanish embassy in Seoul. She also shared her experience with her fellow students Miguel Ballester Molina, who was at the Spanish embassy in Rhiad (Saudi Arabia) from February to March this year, and José Daniel López López Aguilar who returned in September after three months at the Spanish consulate in Düsseldorf. These three carried out tasks for members of the diplomatic service from their first day and they recommend that their fellow students apply for these internships.