According to the jury of experts, the project of CEU students 'Yurtself' adapts the best to the extreme wind conditions of the area, in addition using renewable materials that provide sun insulation and enable easy transport and assembly

The students of Architecture at University CEU Cardenal Herrera Ángel García Llompart, Arturo Sáez Enguídanos, Andrea Risueño Gil and Sergio Sánchez Selva have been awarded by the jury of experts in the international competition 'Temporary Housing for Surfers in Tarifa' organized by the reTh!nking Architectures Competitions. Amongst 219 entries from students from all over the world, the project 'Yurtself' of the students of CEU-UCH, inspired by yurts of Mongolian nomadic tribes has been considered the best solution for the jury of experts in this competition.
'Surfing is not just a sport, it´s a life style. This is why the surfers need a living space at coastal areas where they practice their sport. And in these areas, such as Tarifa, strong winds are very common', point out the students of Architecture at University CEU Cardenal Herrera, winners of the competition. The shelters in their project 'Yurtself' have an aerodynamic shape and are thus wind-resistant. The project also tackles other challenges that the competition has set out.
'We think that the shelter should be easy to assemble and fasten in the sand of the beaches as well as being sun and high temperature insulated to provide comfort. We also believe it is important to enable easy transport since surfers have a nomadic life style, traveling worldwide searching for the best waves', they add. This is why their project reinterprets yurts, traditional tents used by nomadic tribes of the Mongolia region.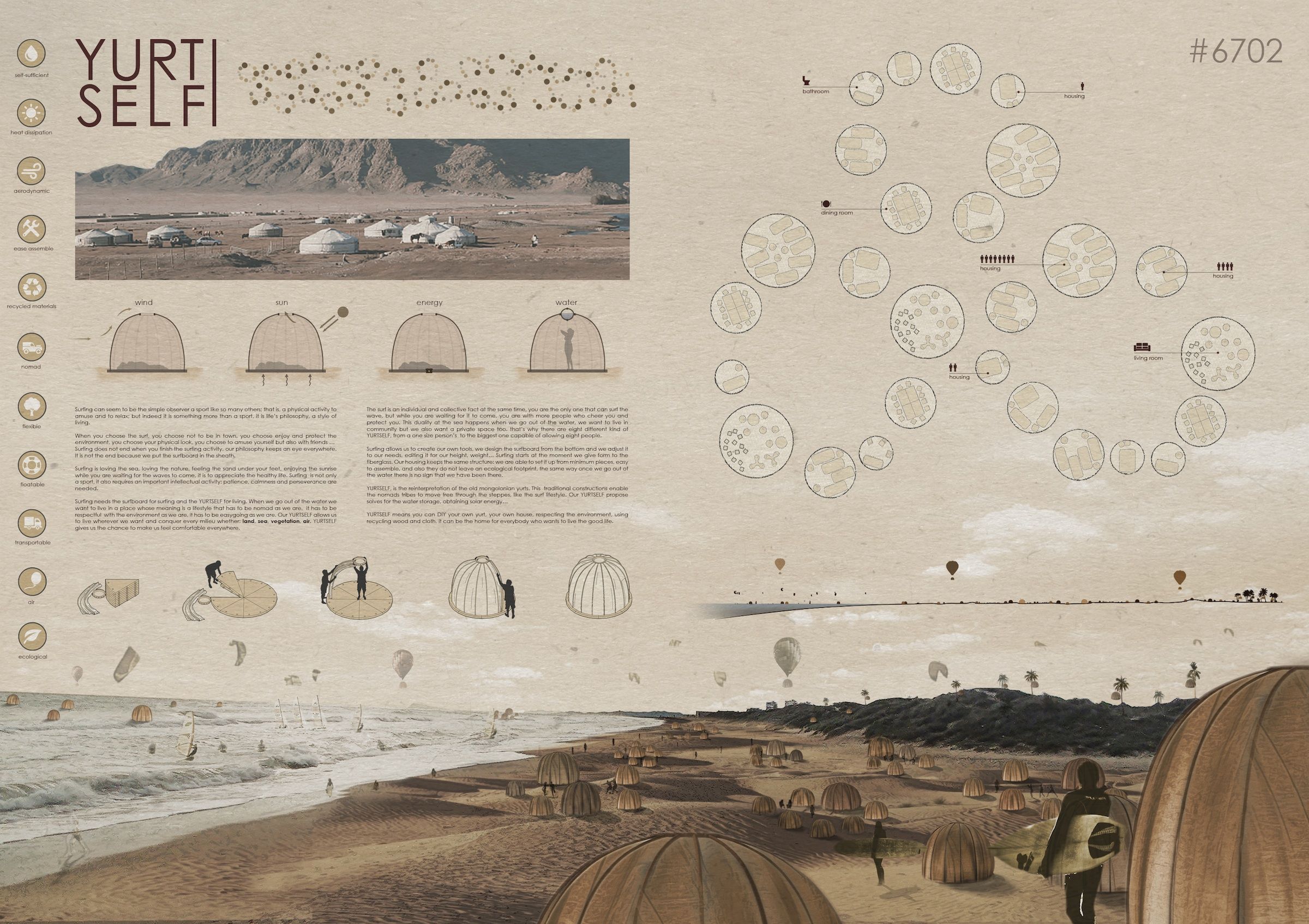 Respecting the environment
Ángel García, Arturo Sáez, Andrea Risueño and Sergio Sánchez also took into account the fact that surfers are above all nature lovers: 'For this reason, all of the materials we have used for our project Yurtself respect the environment. In addition, the construction of these shelters doesn´t pollute the environment, and since solar panels for generating energy and a water tank are incorporated, the shelters are self-sufficient and clean.'
Another aspect of Yurtself is the possibility to create communities via combining individual and communal shelters to create a shelter with a capacity of 8 people with additional communal areas such as dining room, lounge etc. All of this through a simple construction design of Yurtself. 'This corresponds to another aspect of surfers' lifestyle: when they get out of water or when they wait for waves, they like to live together with others and share their experience. For this reason, we took into account the possibility of constructing communal spaces adjacent to the individual shelters, too.'