His lamp, designed in conjunction with Wunderman Thompson Colombia and E-dina, provides 45 days' worth of light from just half a litre of salt water and has won three Cannes Lions awards in 2021
It is thought that around 840 million people across the world do not have access to electricity. Miguel Mójica, a designer from Colombia who undertook a Master's Degree in Product Design at CEU UCH, has worked together with staff from Wunderman Thompson in Colombia and E-dina, to create Waterlight, their answer to the world's urgent need for clean energy. After studying Design at CEU UCH, Miguel has stayed on in Valencia. He now works for ISABA Projects, where he designs urban and aquatic leisure spaces, especially those for children, and with the aim being to promote a healthier society through fun physical activities, but he also remains committed to sustainability and development. As part of his freelance work, he has taken part in the creation of Waterlight, a device which provides 45 days' worth of light from just half a litre of salt water. This "design miracle" is well worthy of a prize and, in fact, it has received three: a Silver Lion in the design category and two Bronze Lions in the innovation and social responsibility categories at the Cannes Lions International Festival of Creativity 2021 in France.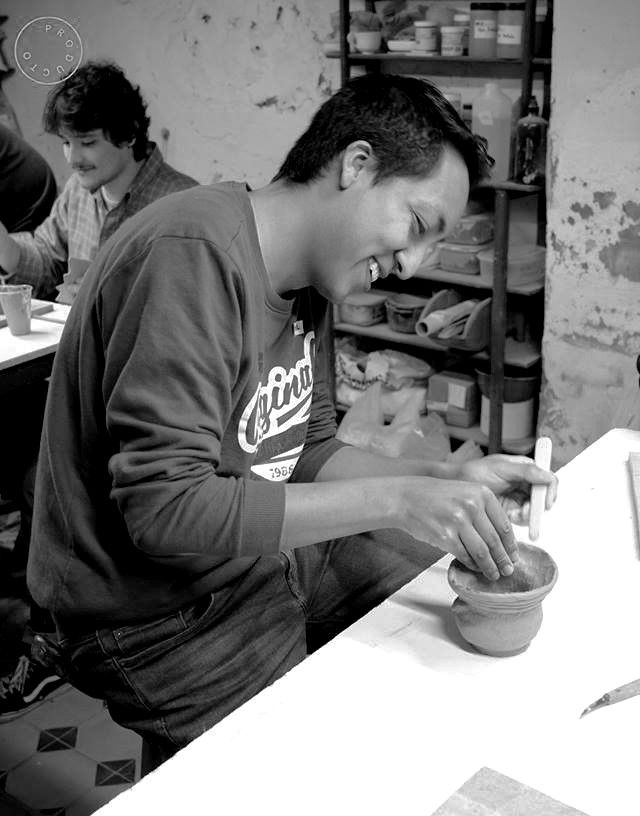 Tell us about Waterlight and how it is possible that this design can "bring light to dark places" using just half a litre of salt water?
Every country faces a multitude of real problems that can be resolved when teams can come together and create synergies. In this case, I think the key thing, besides being able to generate light from salt water, is that a team has come together to work towards a common goal: to light up the lives of the Wayúu community in Colombia. And so, the miracle, as you have called it, is just the end result of a great collaborative project.
Why did you decide to work on this sustainable design project? What motivated or inspired you to begin its development?
I was so pleased when the Wunderman Thompson agency decided to work with me on this project. To be able to develop this project from scratch was a real thrill and even more so because of the ultimate aim: "to bring light to La Guajira". Being so far away from my home country, I thought it was a great opportunity to contribute to the new energy revolution.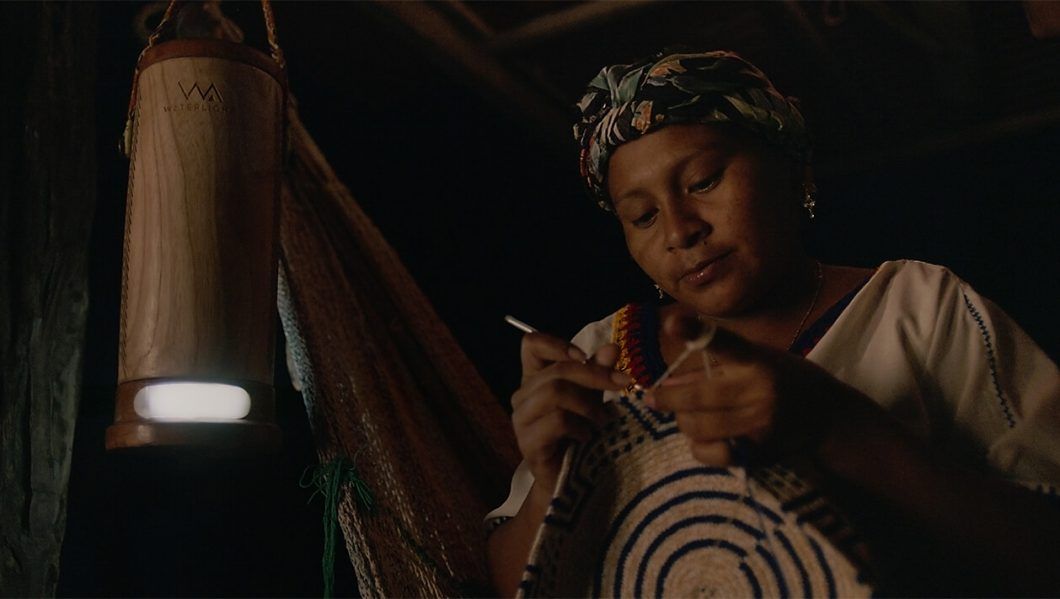 You've been responsible for the whole design process for Waterlight, but who were your project partners in Colombia?
Behind every great idea there's always a great team and Waterlight is a great example of this. I worked with the Wunderman Thompson Colombia team, who are masters of advertising, creativity and innovation, and with E-dina, an engineering company focusing on clean energy who will shape the future of energy sustainability.
The team members included Pipe Ruiz, Rene Rojas, Giovanny Leal, Gustavo Tovar, Nicolás Pinzón and many other people who over time joined this project. Together, we gave shape to Waterlight, right down to the last detail: it had to be perfect.
There were several stages to this process, as we considered materials, usability and how it would fit into the user environment. The creative process was really quite interesting but, above all, productive.
You gained three awards at the Cannes Lions International Festival of Creativity, for design, creativity and responsibility. Are these the things that define Waterlight?
Taking part in the Cannes festival in France was another challenge for us. We knew it wouldn't be easy, but not impossible either. And yes, I think those three words could define what Waterlight is: it's an idea with a social purpose, using innovation to ensure a product is fully suited to the actual environment it is used in.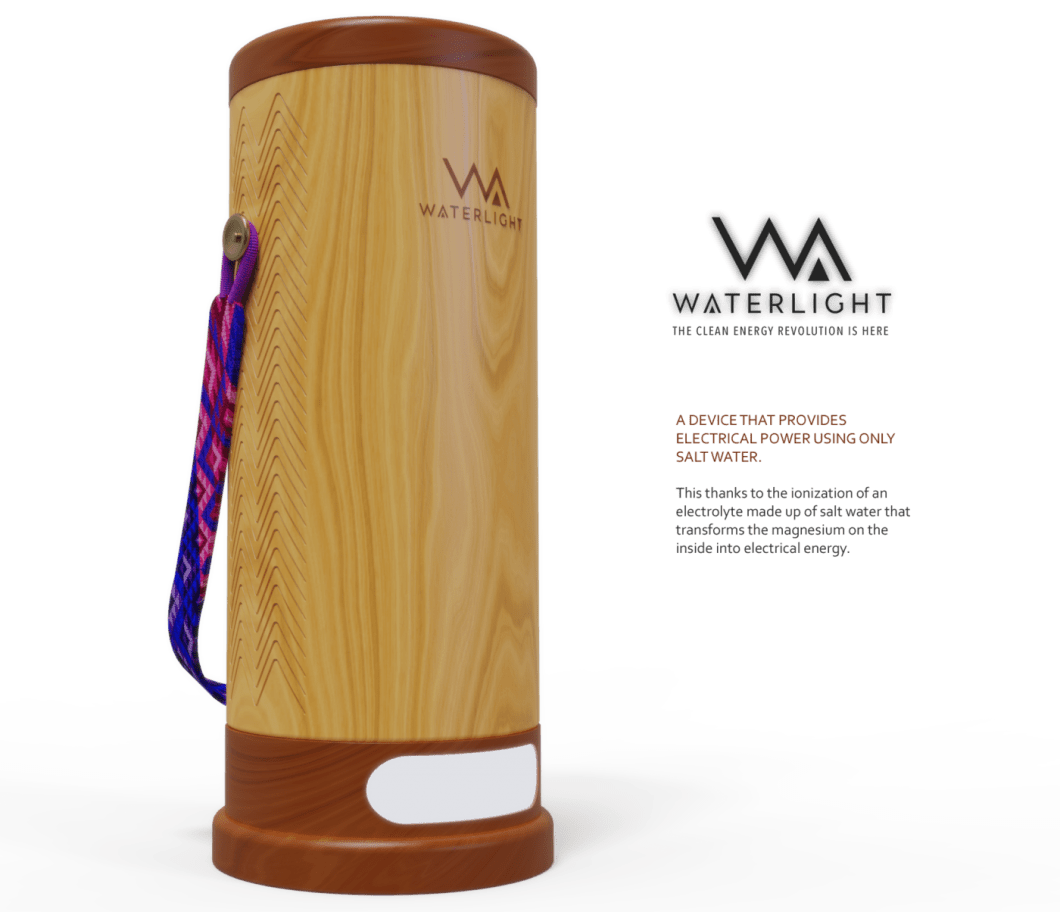 Were you expecting to achieve this success at an international festival? There must have been stiff competition.
The fact that Waterlight started to go viral on social media around the world was a great source of motivation for the team. I think the outcome has been the just reward for the team's many hours of hard work and determination to ensure that the project was a success. You're always a bit worried about the competition, especially when you're talking about competitors from across the world. There were a lot of really great projects there and Pipe Ruiz was the one who, late at night and early in the morning, kept me up to date with the different stages of the competition we went through: his voicemails became updates that I really looked forward to.
Your work shows your sensitivity for sustainable design and your determination to provide solutions to real problems. Do you think design can change the world?
Definitely. Throughout history, design has transformed the world, and revolutionized and disrupted environments. With Waterlight, we're taking a step forward towards responsible and sustainable design and our profession has a duty to do that. We can't radically change everything from one day to the next, so it's the small revolutions which will end up creating real change.
After four years of working as a professional designer in Valencia, what memories do you have of being a student at CEU's Design School? Is there something you learnt during your Master's Degree in Product Design at CEU UCH that you still use in your day-to-day work?
The main thing is was learning about the range of possibilities that product design offers. We explored industries such as ceramics, automobile production, lighting, yachting, and especially design for children, which is the area I now work in. That gave me an encouraging insight into design here in Valencia and Europe. I work at ISABA, a children's leisure company which uses water to enable children and adults to have fun at hotels and in public spaces across the world. As a designer, this has been a crucial experience as it has enabled me over time to develop a range of skills such as teamwork.
Here in Valencia, concepts play a very important role: there's always a reason for everything in design. Nothing appears from nowhere. That's something that I've only experienced here, in the Mediterranean. And then Valencia will also be World Design Capital in 2022, making it the great creative venue for the whole world.
Thinking about current students and up-and-coming designers, do you think that sustainability is where design is headed?
I'm certain that we're all more and more aware of the impact we're having on our planet. I really believe in the change that we, the new generations, are making, and in designers' vision of sustainable and responsible design. Today, sustainable design is a reality: it's become a fundamental requirement for any design and I'm sure that will help us to tackle the challenges of the future successfully. Multi-disciplinary teams, bringing together biological, medical and technological expertise, could be the key to making sustainable design a part of everyday life.
More information on Waterlight:
https://www.coroflot.com/miguelmojicadesign/WaterlightThe-clean-energy