10 years ago Hugo Doménech studied Law and Business Management at our university. He soon realised that his professional ambition was in the field of international marketing which he united this with his passion for cinema. Through a "peculiar journey", as he describes it himself, he has continued to unite them and has recently been named as Senior Marketing Manager EMEA – in the Theatrical section of Twentieth Century Fox.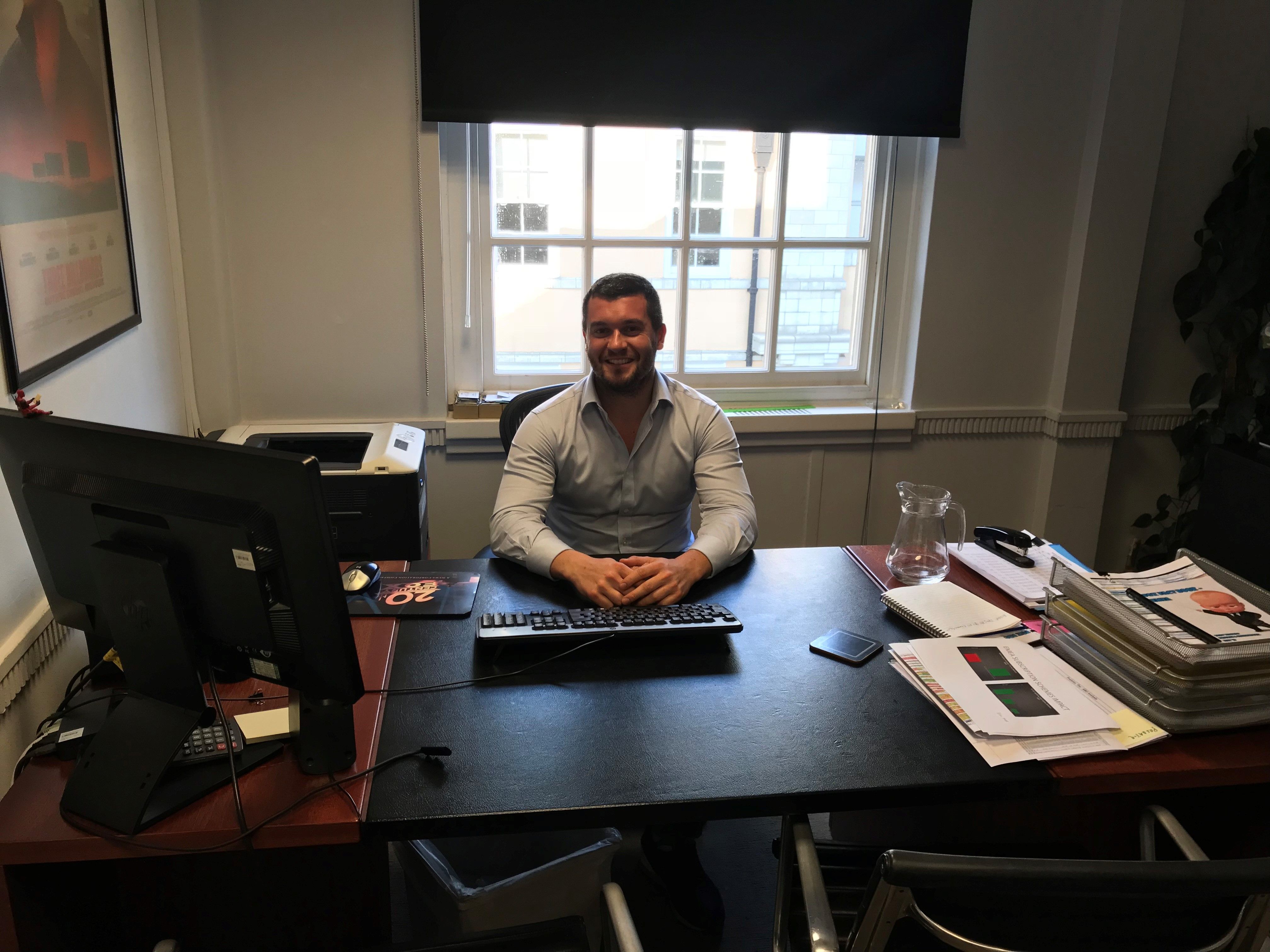 What a great job, Hugo, congratulations! You have recently been named as the Senior Marketing Manger EMEA Theatrical for Twentieth Century Fox. What has your journey been like to achieving this promotion?
Strangely, my first job was in the Cuatrecasas law firm, where I worked for about 2 and a half years, first in the Valencia office and then I transferred to the main office in Barcelona.
After leaving Cuatrecasas, I was working as a freelance lawyer as well as collaborating with my father's office. During this brief period of time I also took advantage of developing a couple of entrepreneurial projects, which allowed me to learn some valuable skills. These projects were probably what helped me to decide to change the direction of my professional career and move to London in search of a job in the world of international marketing.
After a few weeks I had an interview with Fox, during which they found out my knowledge of languages such as German, Italian, English and Spanish, as well as the versatility that my experience as a lawyer has given me. That was just the start of it all!
After a first year of learning they offered me the opportunity to transfer to the central office in Los Angeles for a couple of months, coordinating certain aspects of marketing in the Latin American region. It has been, without a doubt an unforgettable experience in many ways, I still remember my parent's excitement when I told them: "I'm going to Hollywood!"
When I finished my time there I returned to London and after a month they offered me a position in Spain. After six months I returned to London to work on a new and ambitious project in the EMEA region. The huge success of this project helped me to grow on a professional level as well as getting me a bit closer to my new position.
Can you tell us about your daily life working for Twentieth Century Fox?
The truth is that no two days are the same; our planning is weekly and our projects vary in function depending on our next premier or event.
A typical week starts on Monday with the analysis of the weekend's box office sales at the marketing meeting; this is also when we outline the main tasks for the week. On Tuesdays we have a meeting to share developments on the different projects and revise the strategy of each department as well as looking at the results.
The rest of the week is centred around achieving the defined objectives and moving forward according to the established plan, collaborating closely with the different countries and regions to cover their needs and help them to develop and execute their international marketing campaigns so that they have the biggest impact for the audiences.
What is going to be your next job at Twentieth Century Fox? What are the main challenges that you are confronted with?
In my new position I am responsible for international marketing in Eastern Europe, the Middle East and Africa. In these zones we are finding that a large number of the markets have an enormous potential, it is where ticket sales are significantly increasing.
Our main challenge in these countries is making sure that the communication of our campaigns is solid and relevant to each culture and continuing this effort so that it converts into ticket sales. The experience of going to the cinema is irreplaceable, from the smell of the popcorn, the feeling of sitting in the seats and above all, the projection on the giant screen. This is what we have to continue to communicate building up to the blockbusters.
"WE ARE LIVING IN A TIME IN WHICH THE DEMAND FOR CONTENT IS NEVER ENDING AND THE NUMBER OF CONSUMPTION PLATFORMS ARE CONTINUING TO GROW."
As I see it, consumption of one format is not fighting with another; they are different experiences for different moments.
For your work, you are in contact with professionals from Eastern Europe, the Middle East and Africa, what's it like working with people from different countries?
It is very rewarding. In my position it is key to understand the local culture, this helps us to understand how it affects our product. The whole international marketing strategy has to adapt to the distinctive features and customs of each country.
At the bottom of it all, we collaborate at length with the local authorities in the places where they censor certain content, this is to make sure that the final product is the desired quality, as well as in order to find out if peoples preferences for one genre or another has changed over the years. It is a very dynamic environment and fun to work in.
We see that you juggled a joint degree: Law and Business Management. Do you think that this has opened up more doors and given you the opportunity to develop your professional career?
Completely. I use the skills that I acquired whilst studying both degrees on a daily basis. I mainly develop marketing functions, but an important part of my job is the finances and the feasibility of a premier and the success of the marketing proposals, as well as the legal side of things and revising contracts.
"I CONSIDER THE DOUBLE DEGREE AS A PERFECT COMBINATION AND STUDYING IT HAS ALLOWED ME TO DEVELOP MY SKILLS AS WELL AS GIVING ME A VERSATILITY THAT IS CONSIDERED TO BE VERY VALUABLE."
Looking down your CV, you have also done some freelance work, what stood out for you during that entrepreneurial time?
This was an important stage for taking the plunge and going to London. It allowed me to really discover what I wanted to do through the projects that I launched, some with better success than others, but I learnt a lot from doing it.
It also allowed me to learn more about myself on a professional level as well as growing in other areas. My success rates improved, as did my ability of relating myself and presenting my ideas in public.
I think that we are all entrepreneurs on the inside and it is a good thing to develop, for me the best way to do it is by surrounding yourself with enthusiastic and creative people. It is probably the most favourable environment with regards to motivation, stimulus and overcoming challenges.
This journey has taken place in different national and international cities: Barcelona, Madrid, Germany, London, Los Angeles… what have you learnt from your globetrotting experience?
If I had to sum it up in two words, I would choose adaptability and perspective. In each country I have carried out different tasks, from my first days in the Fox office in Madrid I learnt how a local office worked and then I moved onto the central office in Los Angeles, working with different regions such as EMEA or Latin America. Travelling to London to coordinate the activity study in Europe, the Middle East and Africa. I have been lucky enough to get to know some really talented people in every city and I have learnt from them and continue to improve every day.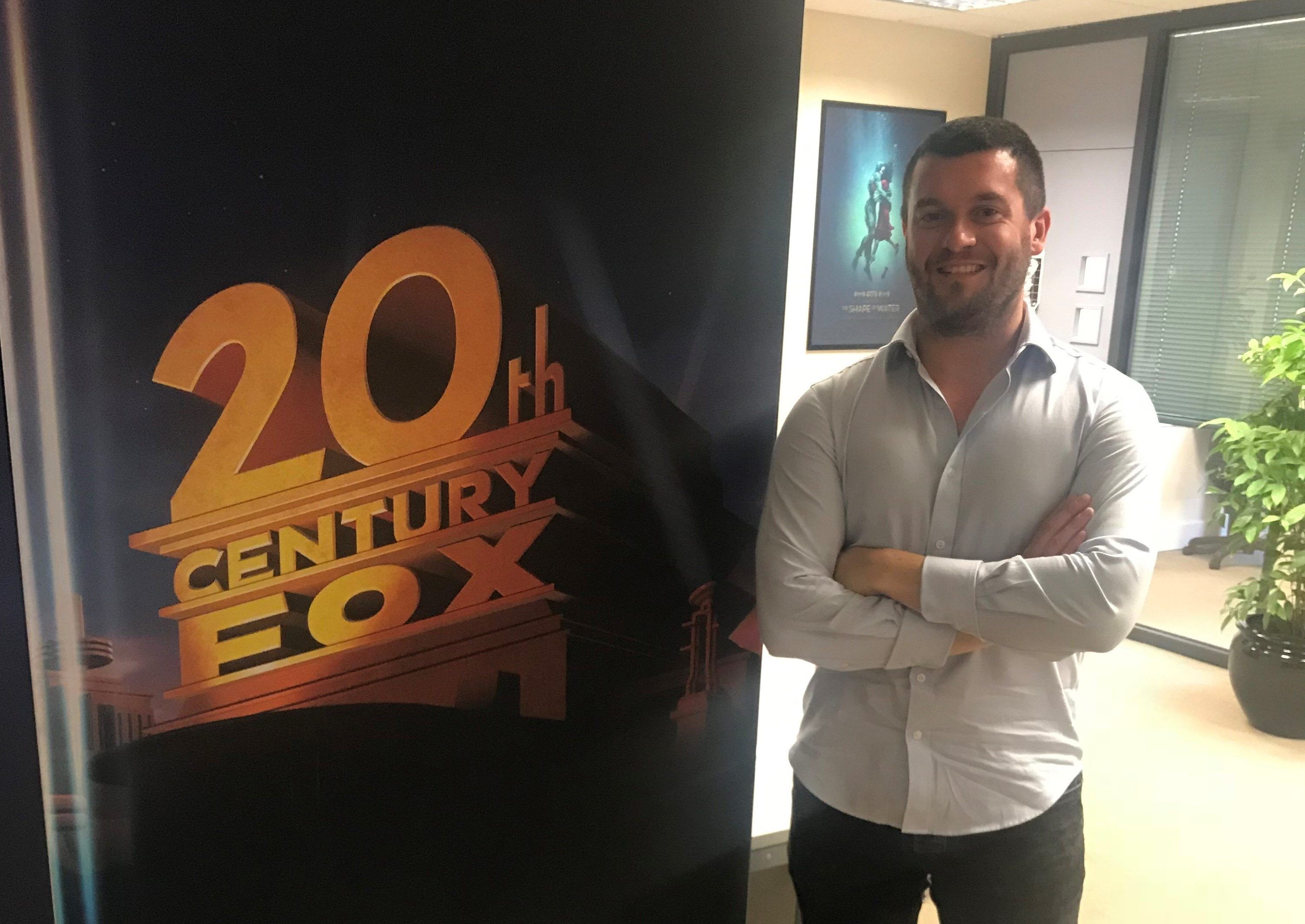 I think that a good personal attitude is key for professional development. In this sense I like to think that in every company there are colleagues that will help to get the best out of you. This is without a doubt what happened to me at Fox.
Where do you see yourself in a couple of years, both personally and professionally?
Professionally I see myself in the world of cinema, it is the thing that I am most passionate about. And if I had to choose a place, I would say Los Angeles: "the Mecca of cinema".
With regards to my personal plan, I can see myself starting a family. I am a family orientated person, although at the moment I am living far away from home because of work but I do try to talk to my parents and sister often.
Going back to the time at university
What were the highlights of your Erasmus+ experience?
It was an unbeatable experience that I would recommend to everyone, no matter if you want to work internationally or not.
"IN A GLOBALIsED WORLD IT IS IMPORTANT TO UNDERSTAND HOW TO TREAT PEOPLE FROM OTHER COUNTRIES."
On my part, I had so much fun and everything that I learnt during this time has, without a doubt, helped me to develop an international profile. I remember when I was using three foreign languages at the same time: I spoke to my girlfriend in English, my best friend and in class in German and with my other friends I spoke Italian.
That was when I realised that I loved this life and that I wanted to launch my career abroad. Little by little I have managed it.
Do you think that the education that you received at CEU has helped you to kick-start your career on an international level?
Yes it did, even though it wasn't as an international university back then as it is now. In my time, internationalisation came about through the Erasmus+ programs. I was always interested in getting to know the exchange students to help them to better integrate into the city and day-to-day life in Valencia. At the same time it also allowed me to practise and keep up my languages.
What advice would you give to the students who are about to enter the labour market? With what you currently know, what would you have liked to be told when you were at that stage?
To those who are about to enter the job market, I would say just go for it without any fear or prejudice. It is important to have hope and courage and in the case that you discover that your first job is not what you are looking for, there is always time to change path and redirect your professional career. After all, I did it after 3 years of dedicating myself to law.
And to those who are starting their first job, I would tell them that the key is attitude, fight and constantly demonstrating your personal value. It is fundamental to be professional, stay modest and be proactive. The employer wants to get the best out of every professional and this attitude will help you with this.