Formed by a group of prestigious international experts in different fields, the International Advisory Board of CEU Cardenal Herrera University is chaired by Mr. Mario Moretti Polegato, President of GEOX Group.

The International Advisory Board was formally presented on February 5, 2014 at the Palace of Colomina, CEU-UCH centre for Social and Cultural Projection. Among its main functions, the full scope of work of the International Advisory Board includes:
Establishing workplace competencies for the program occupation
Suggesting program revisions as needed
Identifying business/industry leaders who will provide students with external learning experiences, employment and placement opportunities
Assisting in the professional development of the faculty
Assisting in promoting and publicizing the program to the community, business and industry agents
Representing the needs of students
The International Advisory Board, together with the Governing Board of the university, meets on an annual basis to discuss on key topics related to the management and future development of CEU Cardenal Herrera University. Mention should be made, in this regard, to the strong pace of growth of international students and bilingual programs offered by the university in the framework of its internationalization strategy.
At the 2015 International Advisory Board meeting, to be held from 3 to 5 February, our board of representatives will continue to discuss on new services, initiatives, and partners needed to secure a sustainable international growth in our university, in an environment transformed by increased choice and high competition. The summit will include keynote sessions, concurrent presentations, workshops and meeting with key faculty members.
[youtube http://www.youtube.com/watch?v=0VpipMKQPgI]
Members of the International Advisory Board
Chairman
Mr. Mario Moretti Polegato
Chairman of Geox Group
Members
Mrs. Ana María Bravo del Moral
Professor and President of The European Association of Establishments for Veterinary Education (EAEVE)
Mr. Carlos Escario
Executive Advisor for the CEU-UCH International Strategy
Mr. Gene Ochi
Executive Vice President for Client Strategy and Retention of UTI
Mr. Guido Coggi
Emeritus Professor of Pathology & Consultant for Medical Education, International Medical School, University of Milan
Mr. Ramón Cugat
Orthopaedic Surgeon and Traumatologhist. President of the García Cugat Foundation
Mr. Roger Macfarlane
Chairman of UTI Worldwide
Mr. Simon Stubbings
Retired lawyer, continues to serve on boards of charitable foundations and certain private companies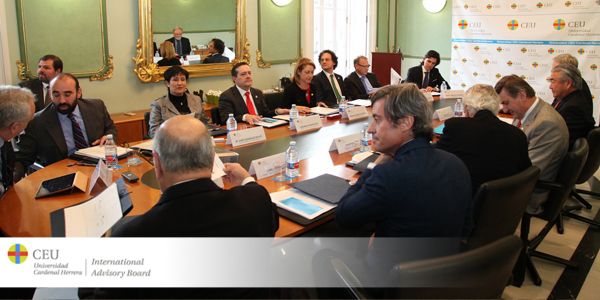 The creation of this committee of high-profile experts in different fields, represents a step further in the internationalization process of CEU Cardenal Herrera University, aimed at ensuring a more innovative and relevant management and fostering the international projection of our university's brand.