Andrés Grau Echevarría is a medical doctor, trained at the CEU Cardenal Herrera University in Valencia. After graduating in Medicine and receiving an award for outstanding academic achievement during his degree, Andrés was ranked 33rd out of the 14,000 junior doctors undertaking the exam to enter specialization training in Spain, the MIR. And his dream of becoming a dermatologist is now that bit closer.
Warm, sincere, empathetic and down to earth, Andrés wants to do his work in the consulting room. He wants to provide real solutions to real people, and be in direct contact with patients.
Dermatology in Valencia. Why did you choose this specialism?
"I find both the clinical work and the theoretical and research side of dermatology very appealing"
It's a field which involves a lot of differential diagnosis procedures, because there are so many different diseases which can cause similar injuries to the skin. It's also one of those specialisms where you spend a lot of time in the consulting room, as well as some time in the operating theatre. Medical specialisms can basically be classified in terms of their main areas of activity: the operating theatre, the consulting room, the hospital ward, and those which don't have contact with patients, such as clinical analysis. I like to be in the consulting room.
You like to build a relationship with the patient.
Yes, because in the consulting room and outpatient clinics you see different patients and you can help them with their problems. On the wards, you see fewer patients and it can become somewhat repetitive.
Have you always wanted to be a dermatologist?
No, in fact, my uncle is an ENT specialist and, when I started my degree, he took me to the hospital he worked in as soon as he could, and I liked it. But then, in the fourth year, in the courses for ENT and dermatology, I had some really good lecturers (I've got fond memories of Javier Miguel, who's a dermatologist at the Arnau Hospital) and that's when my interest in dermatology began. Over time, I've realized that I'm less suited to the surgical side of things.
"It's also a specialism with good career prospects"
What has this journey been like for you, from your first year as a Medicine undergraduate through to today?
It's been great period of my life, but it's also been hard. I looked at the time doing the degree, especially the second half, as a period where I really needed to focus on what I was studying. It's six years in total, seven with the specialization year after the MIR exam, so it's a long time before you are able to practise as a doctor. If only we could start work earlier!
What was the best thing about your degree?
The clinical placements. Especially when I worked in a service whose medical professionals were really concerned to ensure I got the right training.
Which placement made the biggest impact on you?
One I did at IVO [a cancer centre in Valencia]. I was working alongside a CEU lecturer and he devoted a lot of time to my training. Before we saw a patient, he gave me the full background so that I could understand what was happening. Then the appointment would begin and he would explain everything. At the Arnau Hospital as well, I had two really good placements focused on respiratory medicine and gastroenterology. But the best ones were on dermatology at the Arnau Hospital and then later at the Quirón Hospital.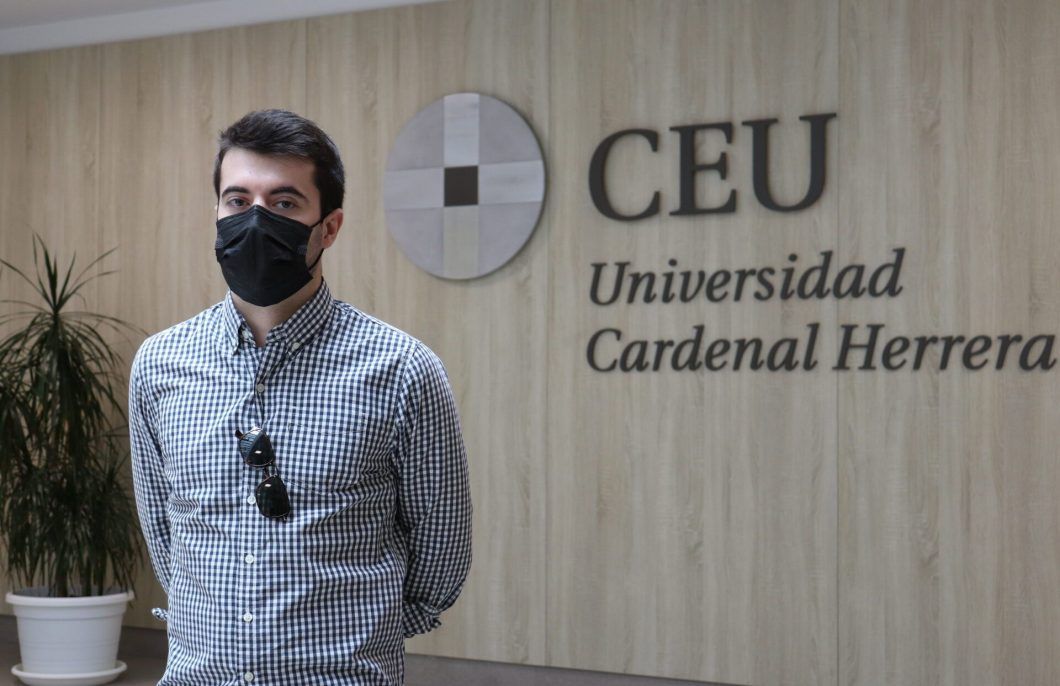 And then came the pandemic. What's that been like for you?
It happened just as I was working on my end-of-degree project but I didn't see a big change at that time. Then to prepare for the MIR exam, I spent eleven hours a day studying and teaching went online, with live chat, and there the difference was bigger.
You already had one foot in the medical profession and then you saw how hospitals were overwhelmed and the conditions doctors were working in. What thoughts went through your mind?
There are doctors who have been put under tremendous strain due to the pandemic, and they would already have been under strain anyway. It's very hard to be a doctor working in emergency medicine, but this has been something else. And I'm not at all impressed by the way our vocation is used to justify the abuse of our working conditions.
"There are medical professionals who are really committed to their work and yet are suffering burnout because of the harsh conditions they're working in."
Andrés, why did you choose to study medicine?
I always knew that the sciences rather than the humanities was my area. I was interested in health and then, when I was sixteen, I got a whitlow from playing too much football and it got quite bad. My uncle took me to the hospital, I got it fixed, and I was fascinated by the whole process. That was when I decided to study medicine.
You've studied at CEU since you were a child, from school and right through university.
Yes, I'm very happy with CEU. When I chose to study medicine, I had the grades to go wherever I wanted. I chose CEU because being able to study in English gave it that bit of extra appeal. And the degree programme here includes preparation for the MIR exam from the early years, and that was a big benefit that I took full advantage of. And it's also true that I really feel at home at CEU too, of course.
There are a lot of young people out there thinking about studying medicine. What would you say to them?
"Medicine is the most rewarding degree, but you have to realize that there's a lot of studying to do. You have to be ready for that."
Medicine in Spain is a tough degree. You have to study a lot and sacrifice other things. You can't just think you can get by doing the minimum, because when you graduate you've got the MIR exam. There aren't many opportunities out there if you don't do the MIR exam and they're usually short-term ones. Between 14,000 and 15,000 people sit the exam, so the competition is fierce. If you just focus on doing enough to pass your exams every year, you may not do well enough in the exam to get a training place for specialization.
Looking to the future, where do you see yourself in a few years?
I want to take advantage of the four-year residency period to get the best possible training I can. After that, whether I stay in Spain or go abroad depends on what opportunities present themselves.
Congratulations Andrés and the best of luck!