Originally from the Chinese region of Jiangxi, Luo Xiao Chun is studying a Master's Degree at JiNan University, located in the city of Guangzhou, specialized in Chinese as a Foreign Language. That is why she came to CEU last September: to teach our students the basics of Chinese language.
Some months after her arrival, it is the moment to approach her and ask more about Chinese language and culture and also about Europe, Spain, Valencia and CEU.
Q. You are part of a group of volunteer Chinese teachers, why is that?
A. I really love what I do. Teaching Chinese in different countries has given me lots of special experiences, and I feel very happy when my foreign students get to love Chinese language.
Languages in some way represent different ways of thinking and cultures, so learning a new language means learning to think differently and to understand other cultures.
If you are interested in Chinese history and culture, you need to understand how the Chinese language works. Learning our language is the first step to embrace our culture.
As for me, I hope I can learn more about different languages and cultures through teaching. Maybe I can pique the students' curiosity about China and its rich culture.
Q. Why Valencia? Is this your first experience in Spain?
A. Yes, it is. To be honest I didn't know I would end up in Valencia when I applied. There was a wide range of countries to choose from and I picked Spain because I love your culture and language. It is the country of my dreams.
In the end my application was accepted and I started with all the paperwork to come to CEU. I am really lucky to be in Valencia.
Q. Has the experience been good so far?
A. I love the city, although I knew very little about it before arriving. I had heard that it was the third biggest city in Spain and about its football team. And that the famous paella is a Valencian dish.
I love CEU. I have felt very welcomed from day one.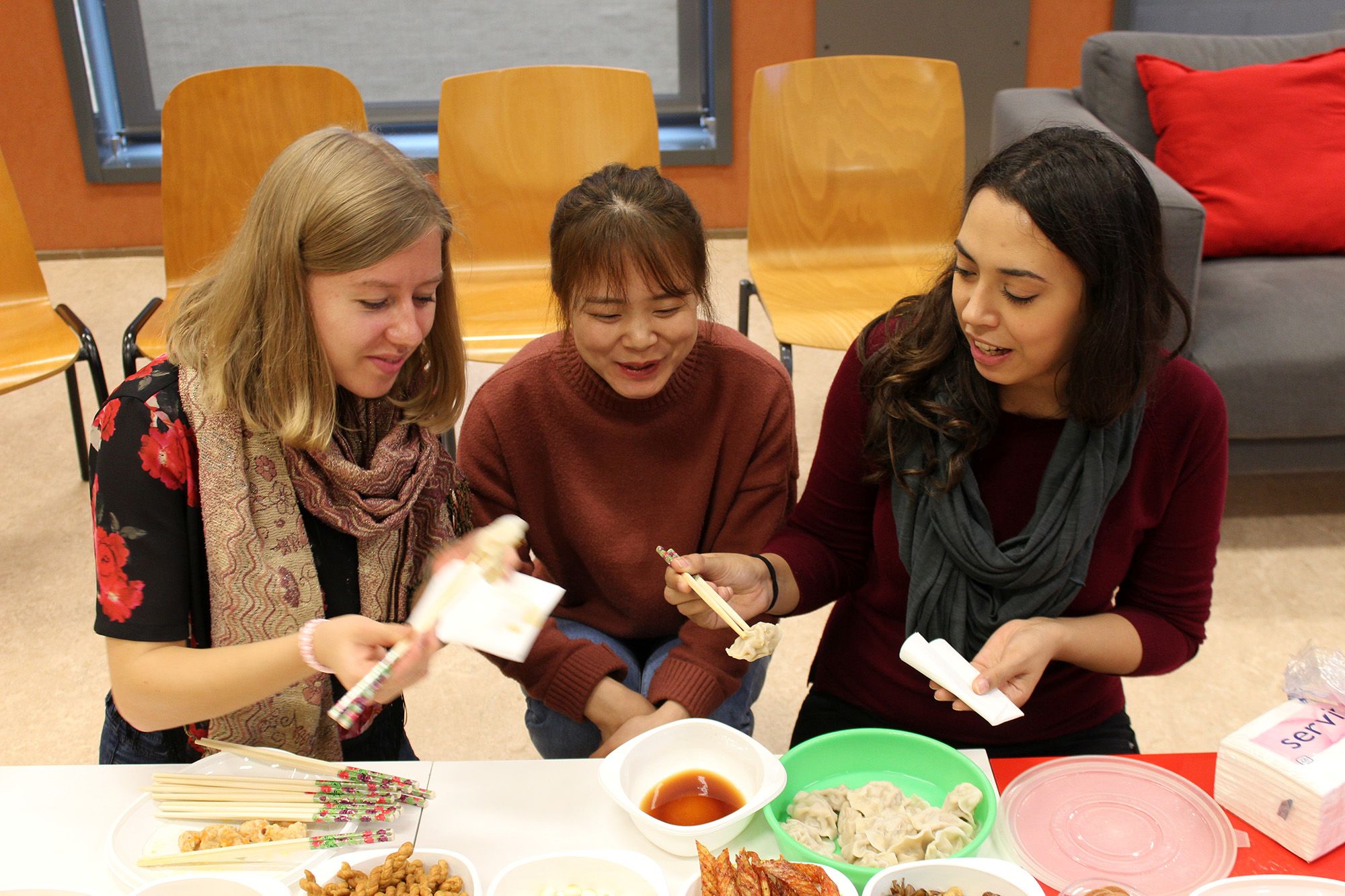 Q. Is there anything that has shocked you during these last months?
A. The city itself has surprised me for good: people here are very friendly and the sky is always blue. When you try to cross the street, cars actually stop to let you cross, something very unusual in China.
I remember my third day in Valencia. I really wanted to visit the city, so I decided to take the metro but I didn't know my way or where to hop off. Luckily for me there was a family nearby. I asked for help using the only word I knew in Spanish ("centro") and they helped me buy the ticket and took me to Colón station. It wasn't even their destination.
Although they didn't speak Chinese or English, they used Google Translator to communicate with me and I was moved. And the rest of the day I came across some very nice people.
Q. Tell us about the relationship with your students.
A. Here at CEU we have lots of fun and I would really like to become friends with my students. I learn a lot from them too.
Q. China has become a major player in the world. Does speaking Chinese help when you are looking for a job?
A. In this globalized world China is becoming more and more important. We already have the second biggest economy in the planet. This has created endless new opportunities that we must take advantage of.
There are many jobs, both in the public and the private sector, in fields related to the industry or language teaching. China's economic growth and our increasing international presence demand people who can speak Chinese.
Moreover, China plays an important role in international trade. This has increased the demand for bilingual people, something not easy to find in China. It is such a big market that, for people from other countries, speaking Chinese can be very beneficial.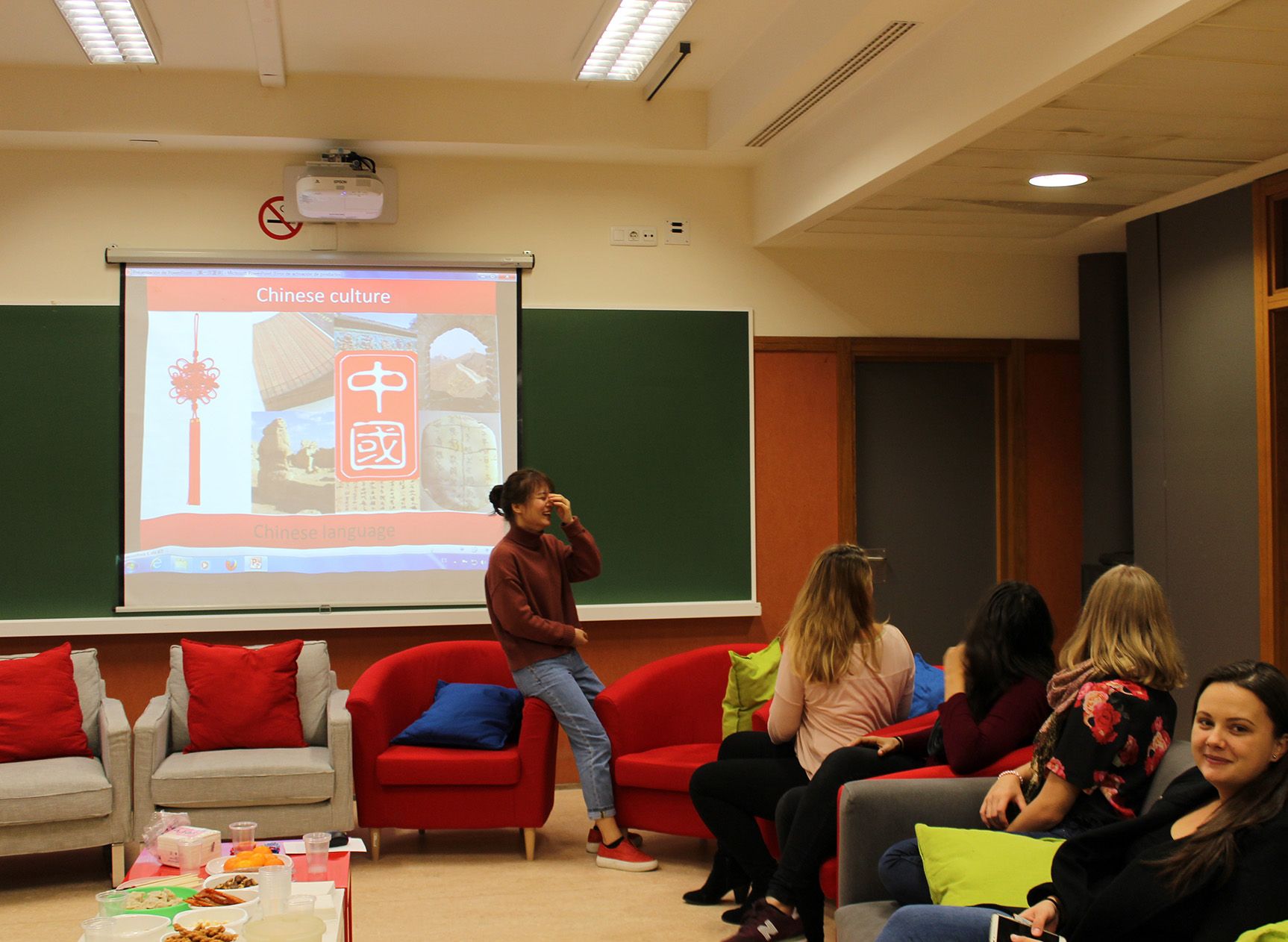 Q. A good reason to learn Chinese…
A. Indeed. Business leaders are looking for people who can speak Chinese and can understand our culture. Mastering our language can really make you stand out in the labour market.
Business people are aware that it is essential to speak Chinese if they want to operate in our market. Carrying out key actions is much easier if you are fluent in Chinese.
On the other hand, China is a greta country to techa English or Spanish while you improve your skills. It really is a great experience.
 Q. It does not seem easy, though.
A. Unlike European languages, Chinese is a tonal language and its characters are also different. It might seem difficult to learn but Chinese sounds like a song, so learning Chinese is like learning to sing a song!
Regarding Chinese characters, you can even figure out some of the words because they literally represent the word they refer to. Reading Chinese is not that complicated. In fact, our characters are easy and interesting.
Mandarin Chinese is much easier to learn than many European languages. There is no agreement between subject and verb, no plural, no conjugation. We follow an easy system to count and conditional is also very easy.