A couple of weeks a couple of weeks ago he received recognition from CEU Castellón for his professional work. It's no wonder: he works as a nursing supervisor in the Department of Surgery and Resuscitation at the Royal London Hospital, a hospital reference centre in the United Kingdom at only at 30 years old.
Pablo Rubio, a workaholic who knows that effort, training and well-understood ambition are the keys for achieving your dreams.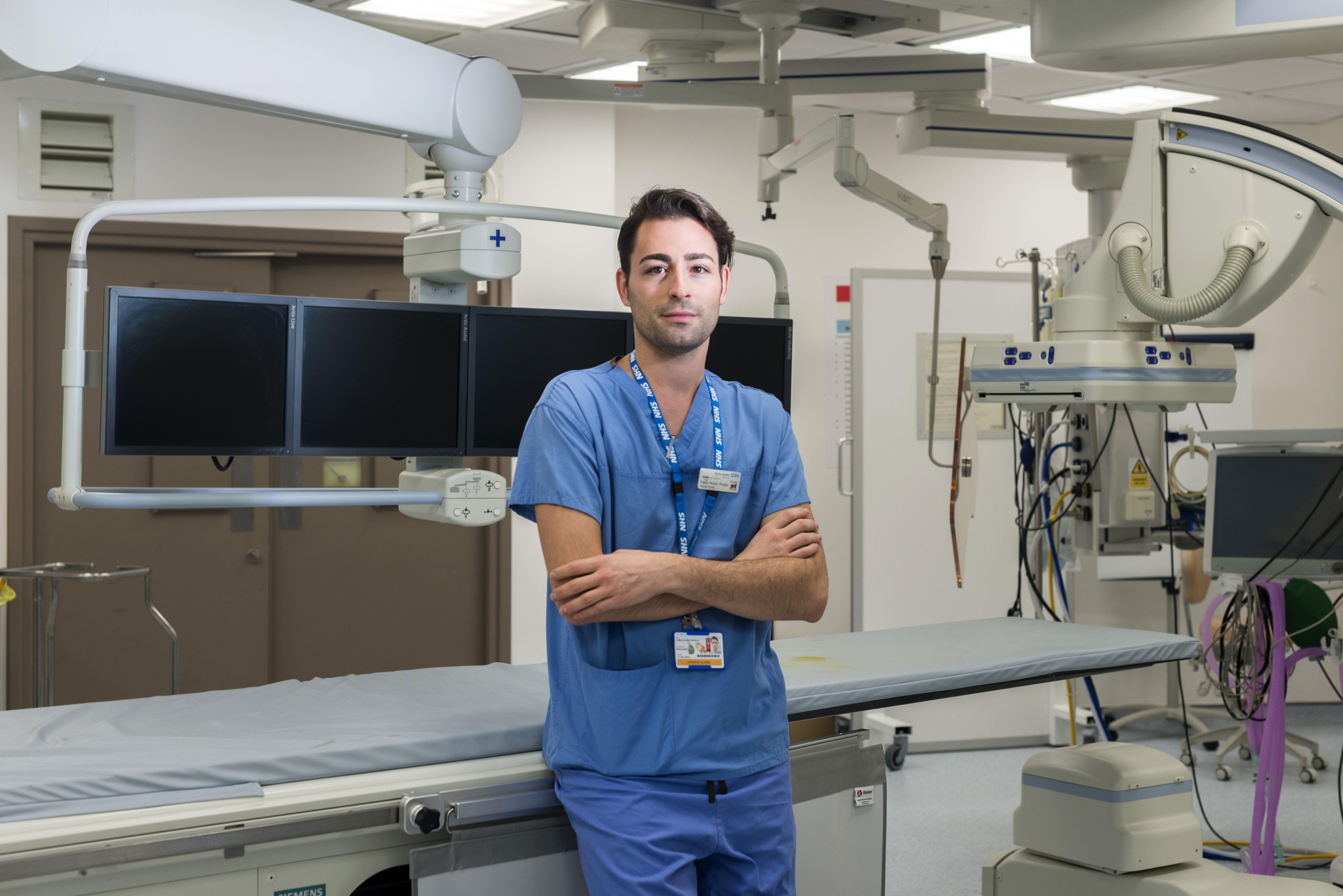 You have already done a lot and you are so young, are you satisfied?
I am really happy in having achieved so much in such little time. After more than 2 years in the job, I am still not aware of how intense this professional time of my life is. It took me a long time to adapt and settle into the city and a country that is very different to our own but after that I started to enjoy the work.
'I BELIEVE THAT EVERYTHING HAPPENS FOR A REASON, THAT SUCCESS DOESN'T HAPPEN OVERNIGHT. BEHIND EVERYTHING, THERE ARE HOURS AND HOURS OF HARD WORK AND DEDICATION'
Are you surprised?
I believe that everything happens for a reason, that success doesn't happen overnight. Behind everything, there are hours and hours of hard work and dedication.
Tell us. You went to London just seven years ago to continue growing as a nurse. How do you get to be in a position such as yours?
Thanks to the training and preparation that I received in the years that I was a student at CEU and doing internships at the hospitals in Castellón. As Spanish nurses, we are very well prepared for all aspects of nursing.
When I arrived in London, my English was not good. I was starting from scratch. I have however always liked exceeding my own expectations and seeing where my abilities will take me. In this sense, I am very ambitious. I have never settled for doing basic work, I have always wanted something more.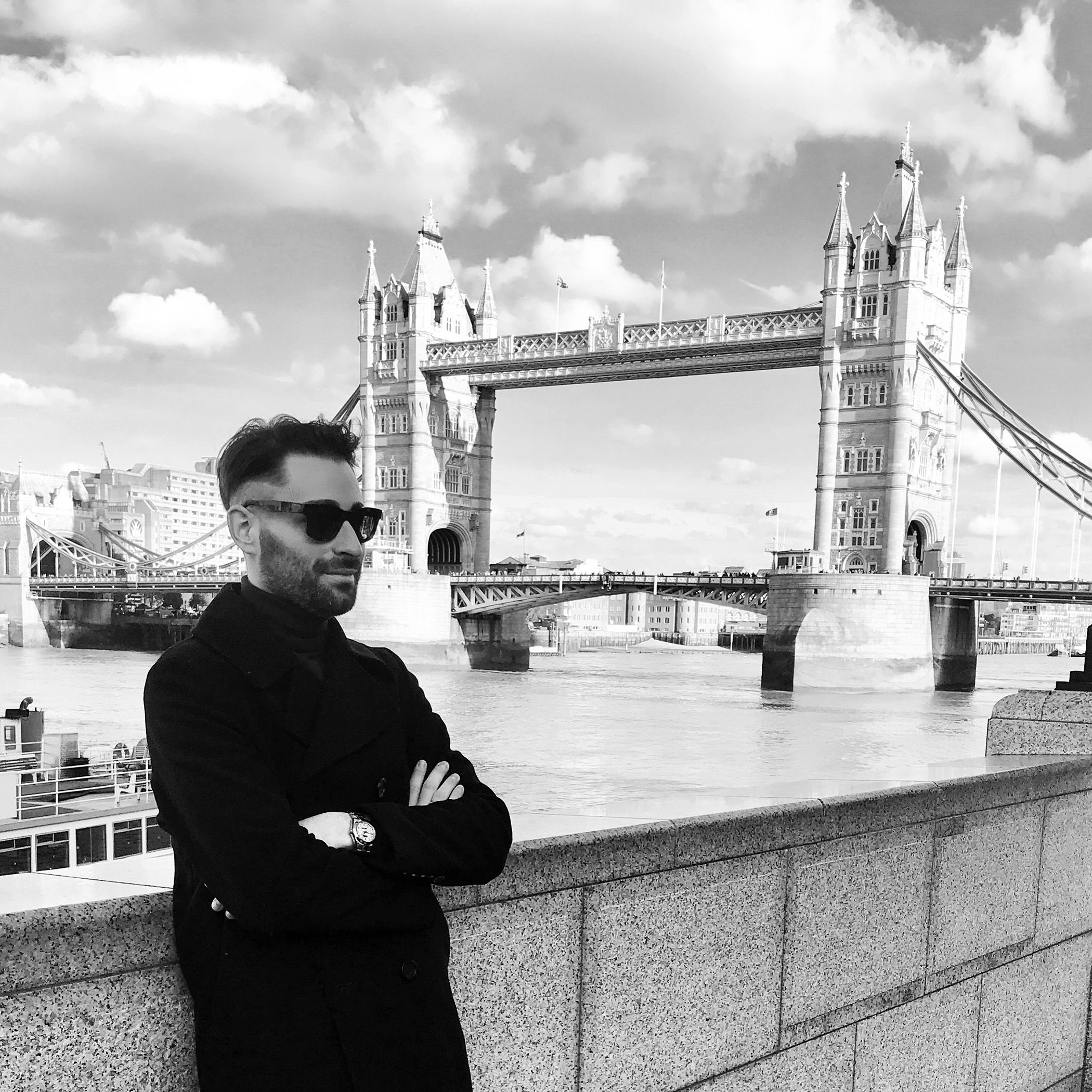 It's not easy taking the plunge…Nothing ventured, nothing gained?
No nothing is easy, but my colleagues really supported me and did everything they could to make it more bearable. I have always had a very positive attitude and I don't accept no as an answer.
At the moment, you do not only lead a group of 60 nurses, but you also collaborate with different universities giving talks on your speciality. Do you have time to do something that isn't nursing?
Yes. My friends say that I am always travelling. I love Southeast Asia and, thanks to my job, I have friends all over the world.
London is a very intense and tiring city; I always try to take advantage of this so that I can try to avoid travelling.
The tightness and intensity of your dedication helps you to learn how to maximise your time.
In my case, I work 4 days a week from 8.00am to 6.00pm. Although the shifts are long I do have 3 days off.
'I ENCOURAGE ANYONE THAT LIKES THE HEALTHCARE WORLD TO STUDY NURSING, BECAUSE, AS WELL AS HAVING LOTS OF JOB PROSPECTS, YOU WILL ALSO LEARN A LOT IN REGARDS TO LIFESTYLE'
It is clear that you have fallen in love with your profession. Have you always know that this is what you wanted to dedicate your life to?
I never thought that I would end up working in a hospital and following in my mother's footsteps. In fact, I originally wanted to study Law or Economics. I spent the summer when I was 16 years old working as a porter in a hospital and I that's when I discovered this vocation.
I liked the healthcare provided for the patient, my relationship with the nurses as well as the profession. Then I realised that I had the urge to be a nurse. When I told my parents that I wanted to be a nurse they did not believe it.
It seems that you have succeeded…
Certainly. And I encourage anyone who likes the healthcare world to study nursing, because, as well as having a lot of job prospects, you will learn a lot with regards to lifestyle.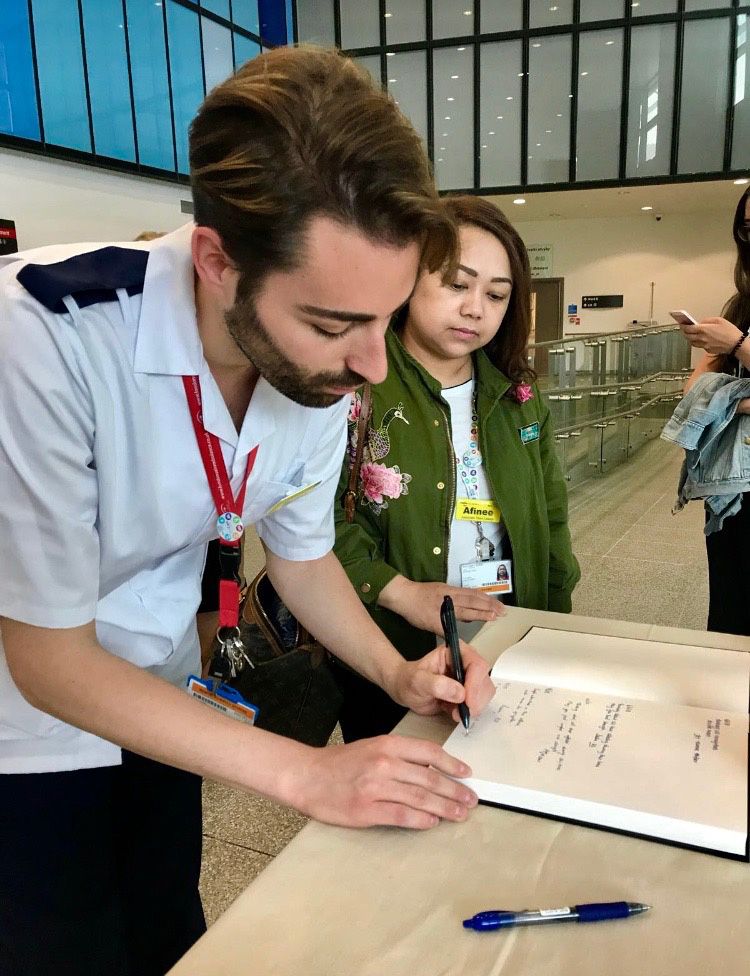 You were a student in the second group to graduate from the CEU Castellón campus. Are you happy with the education you received? What memory stands out for you the most?
I could not be happier. The personal and professional training that we received at CEU Catellón has been consolidated in a solid way and the knowledge that we acquired has been the best investment in the future no matter what country you live in or the language that you speak.
One of the best memories I have of those years is the building that CEU was initially located: in the Penyeta Roja, in the middle of the mountains and with magnificent views of the city of Castellón. It was beautiful to be able to be in touch with the environment.
'THE PROFESSIONAL AND PERSONAL TRAINING THAT I RECEIVED AT CEU WAS CONSOLIDATED IN A SOUND WAY AND THE KNOWLEDGE THAT WE ACQUIRED HAS BEEN THE BEST INVESTMENT IN THE FUTURE NO MATTER WHAT COUNTRY YOU LIVE IN AND WHAT LANGUAGE YOU SPEAK.'
What is nursing to you? What are its challenges?
For me it is something more than just a profession, it is the science of care. The nurse has an important role in the overall development of a person and the provision of healthcare to the point that they can influence people to turn to self-care and gain independence.
On the other hand, a nurse has a very complex role, because on occasions there could be a series of barriers that are not easy to overcome such as economic or social resources.
During the years that I have been working in the profession, I have realised that education and health training are fundamental and above all eating habits and sport.
The next generation is our future, therefore, there needs to be an investment into the socio-healthcare sector since it is more valuable to prevent than to cure.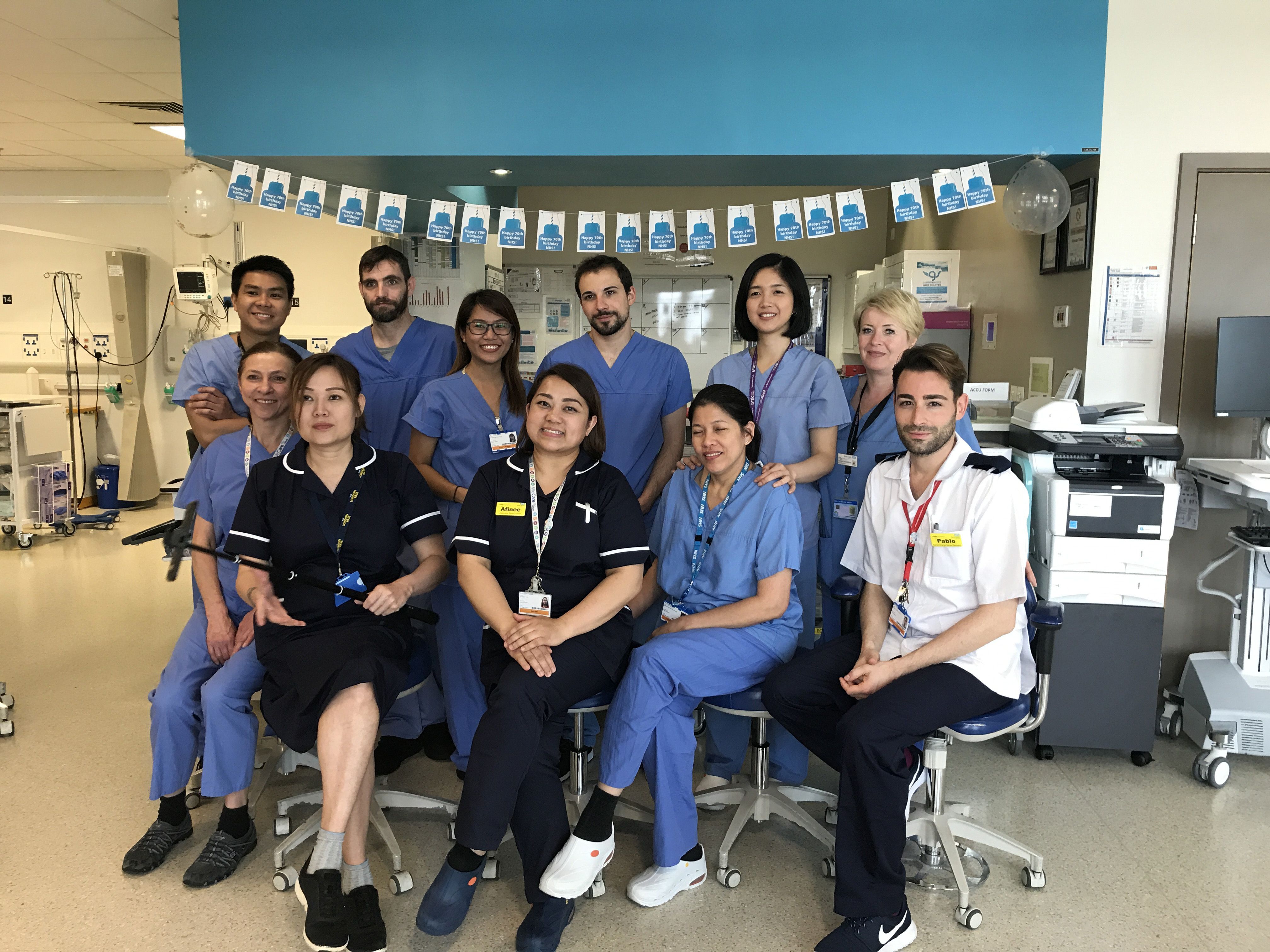 Do you think that the work done by these professionals is sufficiently recognised in Spain and the United Kingdom?
In my opinion, I do not think that the work of healthcare professionals is sufficiently recognised, because we work a lot of hours and are in the hospitals during the night, festivals, looking after patients, which deprives us from spending time with our friends and family.
Depending on which service or department that you work in, you can occasionally be exposed to difficult situations, which can affect you psychologically.
On the contrary, it is a beautiful profession where good things can happen, the work that we do is very rewarding.
'I RECOMMEND THAT ALL FUTURE NURSES GET AN INTERNATIONAL EXPERIENCE. NOT ONLY DO YOU LEARN A LOT IN REGARDS TO TECHNIQUE AND THE PROFESSION BUT ALSO YOU LEARN A LOT ABOUT THE HUMAN BEING.'
What differences do you find between the two healthcare systems?
Both share the same principal: the right to access universal public healthcare, but in the United Kingdom there are more advantages for the employees in comparison to our system. There the nurse can chose the service that they want to work in and once they have gone through the interview process and the relevant tests they have a long-term job.
On the other hand, the jobs in the UK are not forever. People change a lot anNurd try different services before spending a long period of time in a job.
After 10 years of working, nurses enjoy a two-month holiday. In those years there has been a 10-20% pay rise, this is the incentive for many of them to continue working.
'NURSING IS THE SCIENCE OF CARE. THE NURSE HAS AN IMPORTANT ROLE IN THE OVERALL DEVELOPMENT OF A PERSON AND AS WELL AS THE PROVISION OF HEALTHCARE.'
Do you recommend that future nurses do part of their degree or an internship in another country? Why?
Yes. I recommend that all future nurses have an experience of this type. Not only to learn things on the technical and professional side but also on the personal aspect of things. Nurses should live and develop their work in a team and it is good to learn how to interact with others. On the other hand, living in a city or a country that isn't your own will test you in many different ways.
What other advice would you give to other Nursing students so that they can achieve their career goals and to be happy in the profession?
My advice would be keep learning. Education and training have to be constant in this profession just like any other.
If you can, take the opportunity to work in different specialities in different hospitals to see what you really like. There are many different branches to Nursing and it is difficult at the start to know what you like without having gone through these services before. I
never thought that I would end up working in the operating theatre and resuscitation because I had always liked intensive care…
What are your next goals? Do you plan to return to Spain?
At the moment I don't really have a desire to go back to Spain but if circumstances changed and I have to, I wouldn't mind. Quality of life in our country is much better than the United Kingdom.
My next project is a Masters in Leadership and Supervision in Hospitals, which lasts a year.
'MY ADVICE FOR FUTURE NURSES: KEEP LEARNING AND WORKING IN DIFFERENT SPECIALITIES AND IN DIFFERENT HOSPITALS TO SEE WHAT YOU REALLY ENJOY DOING'
Best of luck with your new project, thanks for meeting us.
Thank you.