CEU UCH Community Manager has enjoyed a week abroad with an International Exchange Programme, and he wants to share with us his experience…in Lithuania!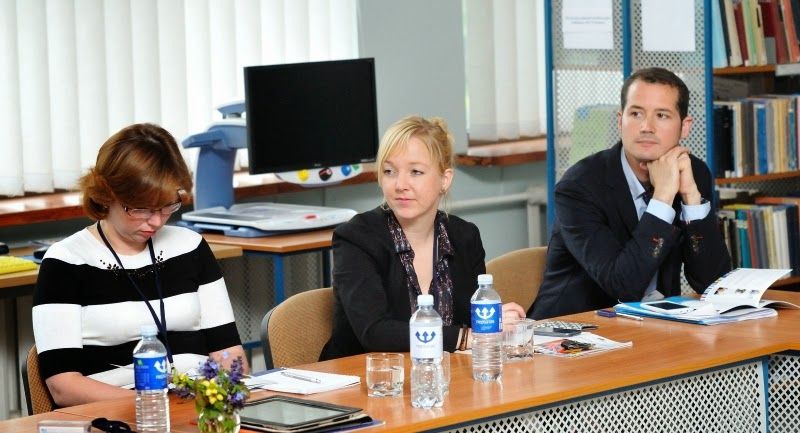 One of the greatest achievements of the European Union is the Erasmus Programme, an exchange programme for European students allowing them to spend some months abroad and live and study, in most of the cases for the first time in their lives, in a foreign country. But there is so much more beyond the Erasmus Programme for students!
CEU Cardenal Herrera University allows Professors and staff to spend a week in another European university in the EAA, promoting co-operation and networking, although it also represents a great cultural exchange!  Fernando Leandro, Community Manager and Social Media Analyst of our university has seized the opportunity and has spent a week at the Vilnius Gediminas Technical University VGTU from May 11-16.
---
Labas!
("Hello!" in Lithuanian)
From May 11-16 I've enjoyed an international exchange experience for university staff members. My destination: Lithuania…where? That's right, Lithuania! In Spain we've all heard of this country on the Eurovision Song Contest, but Lithuania is much more than that. In fact, it's a country which stands out for its quality in Higher Education. Indeed, I can confirm that they're very well prepared to welcome international students, my heartfelt congratulations to the IRO team (International Relations Office)!
My first impressions of the country? Well, the weather was so COLD when I arrived, which is not that weird considering that I was coming from sunny Spain! Also, I think Lithuania is one of those places in which you can easily feel like a foreigner. Firstly, because there aren't that many Spaniards around; secondly, because you can really feel the cultural differences in the way you talk, you act, you dress; but most importantly because you are more than 3200 km away from home! Having said that, I must say that people were extremely polite and well-mannered, ready to help at any moment.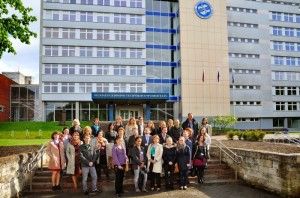 As for the programme of activities and lectures, our friends from VGTU designed an intense week for all 25 colleagues from 23 countries working in the International Relations and Public Relations departments who participated. A programme under the motto  "3Cs IN MOBILITY: CHALLENGES, CHANGES, COMMUNICATION". And indeed, it was a big challenge because to break the ice we had to play a couple of games and make a brief presentation of our countries; in English, of course!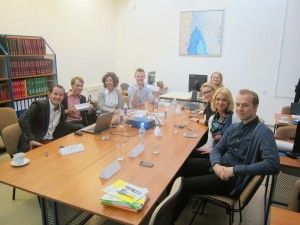 After the presentations, in which of course we had to talk about our uni and how special we are, we had to attend a very interesting workshop to discuss on Marketing & PR issues, such as how to manage Communication Strategies, how to measure your digital footprint, how to create efficient and high-quality content and how to foster networking among European universities. I think we all shared different points of view and got very enriching feedback from the rest…a truly fulfilling session in which we came to some very useful conclusions!
But of course, not everything was going to be work, work and work. We also enjoyed some fun activities, such as a visit to Trakai, a lake with a beautiful medieval castle where many movies have been filmed; we even tasted the genuine Lithuanian cuisine, some delicious potato dumplings called Cepelinai.
And many other activities that made us discover Vilnius and people from other backgrounds, which is very positive because it gives you the opportunity to know how other institutions work. But, as I've already said, it's always a challenge because you have to tear down the language and cultural barriers! From a technical point of view, it's a great chance for professional development and skills upgrade, because you get in touch with international colleagues who are facing the same problems or challenges than you: pure networking!
"One's destination is never a place, but a new way of seeing things"
Henry Miller
I would like to thank CEU Cardenal Herrera University for making this trip possible and also to my host university Vilnius Gediminas Technical University VGTU. And also thank you for the nice postcard I got upon my return to Spain, it made me really happy!
Ačiū!
("Thank you!" in Lithuanian)
---
Thank you Fernando for sharing your amazing Baltic experience with us, we can see you really had a ball! Who knows, maybe one of the colleagues you met in Vilnius will come to CEU Cardenal Herrera University in a future exchange programme?