No one disputes that football has transcended the sports sphere and that, as a social phenomenon, it reaches many other fields: economy, culture, media, business, education and even urban planning.
If we stop the game for a moment and bring the focus closer to the corporate behaviour of the clubs, it is easy to find similarities with the organizational culture of many companies.
As a social phenomenon, football reaches many fields: economy, culture, media, business, education and even urban planning.
The number of socially committed companies is growing unstoppably. We will not discuss here whether it is because of the expected profitability or because their audience increasingly demands an ethical and responsible corporate behaviour.
That is what Corporate Social Responsibilityis about. Born in the field of Public Relations as a response to the way the relationship with stakeholders is managed, CRS is now growing in all areas of business management.
The same model can be seen in Spanish football clubs. And, in this case, perhaps in a more organic way, since the ability to train and prepare the future players, the "promising youth", has always been valued in this environment.
Social Fair Play
In the "The map of Corporate Social Responsibility in Spanish professional football", drafted by the Spanish Professional Football Foundation, the concept Social Fair Play is explained.
"Social Fair Play is a process with a clear vocation for collaboration and the effective participation of everyone since, among many other reasons and convictions, we consider that SR is the safest way to improve trustworthiness. We are in a social context subject to permanent public scrutiny, which grants reputation, prestige and trust over time, but which, nevertheless, immediately withdraws it in the face of any evidence of lack of honesty or transparency".
The CSR projects of the Valencian Community clubs are at the same level as those of Madrid, Catalonia or the Basque Country
The Corporate Social Responsibility projects of the Spanish League clubs have two references: Real Madrid and Futbol Club Barcelona. The visibility of your projects is proportional to the notoriety of your brands. However, all clubs have set up Social Responsibility projects that the Professional League has summarized as follows: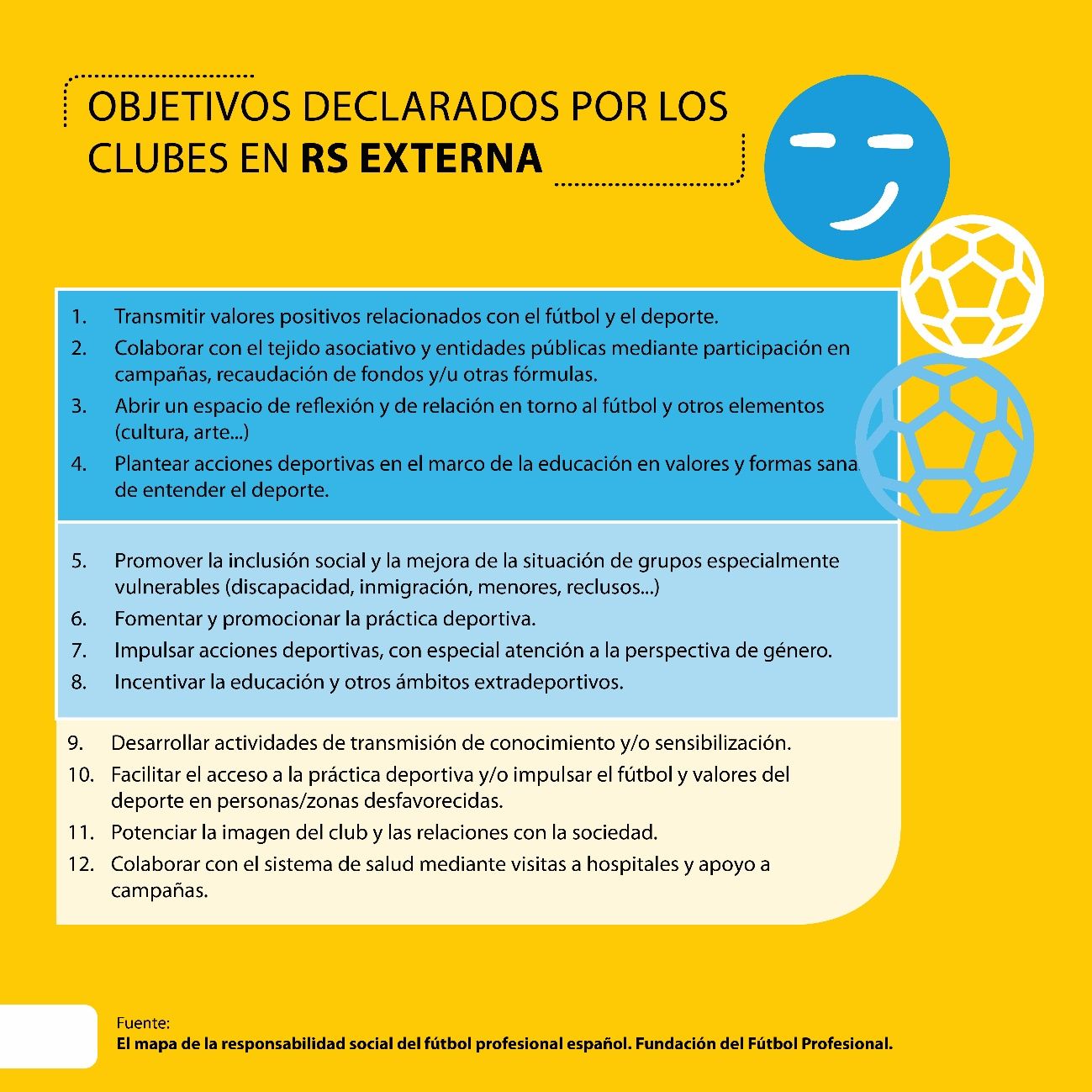 In the same document, social responsibility is mapped in Spain, and the Valencian Community clubs are at the same level as those from Madrid, Catalonia or the Basque Country.
Endavant
Elche CF, Hércules de Alicante CF, Levante Unión Deportiva, Valencia CF and Villarreal CF are some of those Valencian clubs with a strong social commitment.
For example, Villarreal explains on their website the commitment to their environment:
"Villarreal CF, through the corporate brand 'Endavant', carries out its Corporate Social Responsibility programme, with the aim of collaborating in the promotion of the province of Castellón through different activities that has been carrying out for more of a decade with social, cultural, sports, educational and tourist purposes. The club, exemplary in terms of sports and for its healthy economy, after deciding to renounce public subsidies, has always demonstrated its social involvement and commitment beyond sports".
The CEU is very proud to collaborate with Villarreal CF through Aula Endavant
CEU Cardenal Herrera University is very proud to collaborate with this project through "Aula Endavant", a space for mutual enrichment, where it is possible to work on the values that both institutions share in the areas of training, research, and employability.
An example of CSR, Aula Endavant: Villarreal players with patient associations from Castellón at the CEU. Proyecto Píxel
Physical Activity and Sports Science
One of the most ambitious projects that CEU UCH shares with Villarreal CF is the Degree in Physical Activity and Sports Science. Villarreal CF contributes with their elite sporting dimension, their international network and their history as a club involved in dozens of sports entities.
One of CEU's most ambitious projects with this club: the Degree in Physical Activity and Sports Science
The Villarreal City Council has also joined the project, as a city associated with sports and health. And together with them, more than 40 sports entities, associations and companies in the sector.
The CEU intends to create a "networked Open Campus" to turn the province of Castellón –with all its sports facilities and natural areas– into a unique space for learning sports science.